E-commerce space is extremely competitive and current day consumers want personalized experiences, easy to access product information and exceptional services. In order to deal with high expectations from consumers, online retailers need to leverage data being collected and actively integrate analytics to improve their decision making process. This is true for any retailer. They should use analytics to better understand consumer preferences, and further provide them with right product offerings. Also, online retailers should extract value from their data beyond just information gathering and monitoring.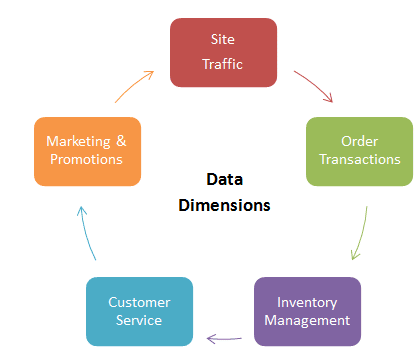 Above flow chart showcases most common data dimensions which are being tracked by most of the retailers in e-commerce space. After setting up basic analytics processes for tracking key performance indicators, retailers should look to use data more for performing advanced analysis such as customer retention, customer experience, customized recommendations, targeted promotions and increasing average purchase value. Analytics would also help in providing answers to specific questions like:
When will a particular product run out of stock
Which customer is more likely to respond for email marketing campaign
How can you efficiently manage the inventory to meet constant demand
What are the key aspects that will drive higher customer satisfaction
How can you organize your site for a smooth and hassle-free customer experience
Above examples are just a few. A lot more can be achieved when analytics is tied up with business decision making. Below, I will talk about how analytics can be applied to various business segments of an online retailer just to emphasize the advantages of adopting data driven decision making process.
1. Optimize the marketing mix
One of the major needs for the success of an online retailer is to attract consumers to the site and further engage them with the right set of products and offerings which would lead to a purchase. This has to be an ongoing activity and investing in the right set of marketing vehicles is a key step for the above mentioned process. Marketing process for an online retailer would be different from a traditional business, since equal emphasis should be given to digital space along with offline media. Using predictive analytics, one can determine the significant factors which drive more consumer acquisitions or sales. Depending on the model outcomes, one can always efficiently use the marketing budgets and allocate them across different media vehicles to maximize the returns. Of course, this won't be a one- time process and depending on the business budget cycle, these models need to be periodically updated and relevant changes need to be done in budgeting based on changing consumer media preferences.
2. Recommend right
Another useful dimension which would benefit online retailers is providing customized product recommendations and promotions. Using analytics makes this challenge easier by better understanding consumer's purchase behaviors, past purchase history and performance of different products on the site. With the help of such data, retailers can deploy advanced machine learning algorithms and recommend customized products which would potentially increase the product sales. This kind of capability also improves overall consumer experience and would convert that into more visits and more purchases. When it comes to consumer behaviors, there is no one size fits all kind of solution since each one tends to behave, respond and react differently. With the help of sophisticated consumer segmentation techniques, one can identify different characteristics of consumer base and can then target each of these segments with specific promotions and discount offerings. Amazon.com has seen tremendous success by adoption this strategy and has successfully managed to become a leader in the e-commerce space.
3. Ensure supply meets demand
This dimension is one of most important and sometimes would become a key differentiator for being successful in the competitive e-commerce landscape. It is essential for any online retailer to develop a good understanding about consumer demand. Using analytics, one can effectively manage overall supply chain process which includes forecasting, purchasing, planning, assortment, storing and delivery. Large retailers such as Walmart thoroughly depend on analytics for their day-to-day decision making in supply chain management. Using the insights generated, one can make better use of the inventory space and avoid out-of-stock items.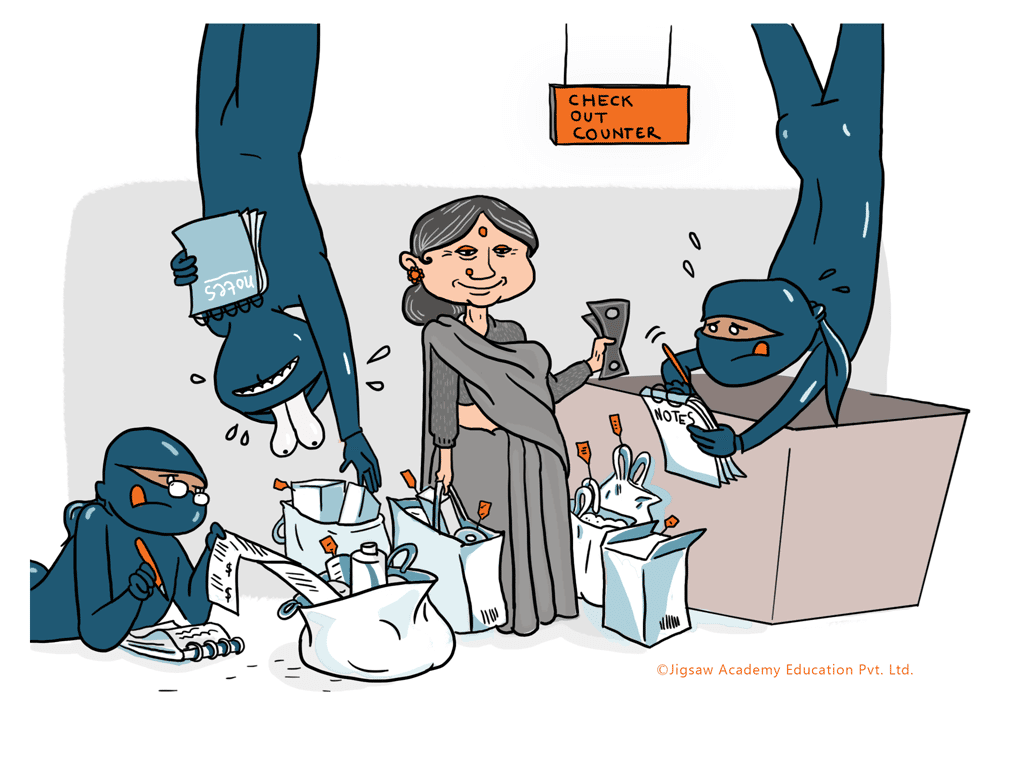 Interested in a career in Retail Analytics? Explore Jigsaw Academy's Retail Analytics Course.