LinkedIn Groups are one of the most popular features of LinkedIn. It allows one to interact and engage with peers or professionals, with expertise in varied areas. LinkedIn Groups are also a good way to stay informed and keep in touch with people that share similar interests and goals. One can post and access articles, engage on discussion boards, network etc.
For those interested in analytics, it's wise to join a few of the many analytics related LinkedIn groups out there. It's where many well-informed professionals join together to talk about what is happening in the industry. For those looking to build a career in analytics, by joining these groups and actively engaging in discussions forums, one definitely increases their chances of finding a good job and advancing their career.
But the big question is, which groups to join? Of course as a start we would recommend the group Analytics Professionals – Jigsaw Academy. It's a great place to meet analytics fans and have great discussions on all things analytics. And if you are wondering which other groups you should join, so that it would add value to your learning curve as well as expand your connections in the industry, well look what we have for you. Shilpa Jat, faculty at Jigsaw Academy analysed all the analytics related groups and based on criteria like number of members, discussions per month and comments per week she put together a list of the more popular groups that would be of value to analytics students, professionals or just anybody interested in analytics. Here are her findings:
As per the above chart, the ten more engaging analytics LinkedIn groups are:
1. Advanced Business Analytics, Data Mining and Predictive Modeling
This group, founded by Vincent Granville, has 109,502 registered members and still more join everyday. Its recorded number of discussions this past month was 688. It is without doubt the fastest growing, and most productive group in the field of analytics.
2. Big Data / Analytics / Strategy / FP&A / S&OP / Strategic Planning / Predictive & Business Analytics
This is a self-proclaimed networking group on analytics and has a strict no junk/spam policy. It is a group that allows analytics beginners to connect with experts and find specific information. It includes relevant articles about analytics strategies, career tips, and more. It has to date over 86,030 members.
3. Business Intelligence, Big Data, Analytics, MIS Reporting & Database Group
This group focuses on the latest trends in analytics, BI, Big Data and reporting. With over 69,000 participants, the members include Analysts, Directors, Strategy Planners, HR, and Marketing professionals, and they all participate by sharing information about social networking, recruiting, interviewing, business, and workplace developments.
4. Big Data and Analytics
This group talks about Business Intelligence (BI) as a Strategic function involving Data Warehousing, Analytics, Trends Tracking, Forecasting, Competitive Intelligence & Consumer data research using advanced statistical packages such as SAS, Minitab & SPSS. This is a a very active group with about 62,864 members.
5. Online Marketing, Web Analytics, and E-commerce Group — WebAnalysts.Info
The WebAnalysts.Info group is about web analytics, a/b testing, online marketing and e-commerce. This group is founded by Lars Johannson and has more than 57,000 members.
6. Business Analytics
The group keeps one updated with the analytics industry. The member's discussions on business analytics is very popular. There are 49,000 members in this group.
7. Statistics & Analytics Consultants Group
This is a group for scalable computing and distributed computing and applications professionals located throughout the world. With over 32,000 members currently using it, the group helps members enrich their knowledge on statistics and analytics.
8. Google Analytics
Google Analytics is widely used in the web analytics industry and is becoming more and more extensive. This group, with more than 29,000 members, answers all your questions while giving you tips on analytics that's helps keep you abreast of the latest advancements in the industry.
9. BIG DATA Professionals ☁ Architects ScientistsAnalytics Experts Developers Cloud Computing NoSQL BI
This is LinkedIn's largest BIG DATA, NoSQL, Cloud Computing group for professionals. This group is becoming more popular because of its discussions on new strategies in analytics. It has 27315 members and presently has discussions on about 473 topics, which is quite commendable.
10. Global Analytics Network (+15K analytic professionals)
The Global Analytics Network (GAN) is a place for analytically minded professionals to come together and network, share thoughts, opportunities, and discuss hot topics in their respective industries. With around 19,000 members actively discussing global analytics, it is definitely a group worth considering.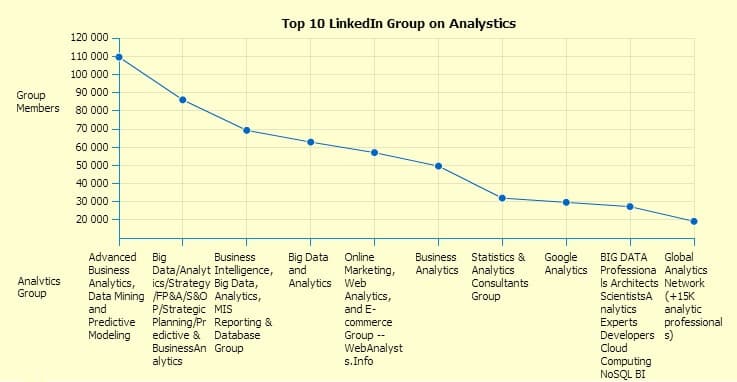 Fig 1 – Top 10 LinkedIn groups on Analytics on the basis of joined members.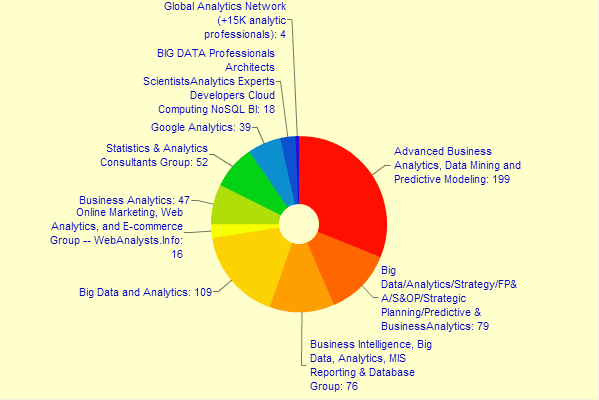 Fig 2 – Top 10 LinkedIn groups on Analytics on the basis of comments per week.
What do you think? If you know of another group which is worth recommending, do let us know.
*Statistics noted on January 20 2014
Interested in a career in Data Science?
To learn more about Jigsaw's Data Science with SAS Course – click here.
To learn more about Jigsaw's Data Science with R Course – click here.
To learn more about Jigsaw's Big Data Course – click here.