An Interview with Shailesh Kapoor- Media Insights Detective
Here at Jigsaw, we are always excited when we find someone doing something exciting and different with data analytics. And then of course, the next thing we want to do is share it with all of you. "Why", you may ask? Well we think it's important for all of you to know the broad spectrum of industries that data analytics can influence. After all data analytics is reshaping how companies are making decisions and the reality is that many of those decisions impacts our lives in subtle and not so subtle ways. Where we go, what we buy, how we pay for what we buy…..that's just the tip of the iceberg.
So connecting with Shailesh Kapoor, CEO and Founder of Ormax Media, India's first and only media & entertainment insights firm, brought home the fact that India's entertainment and media industry (and that's Bollywood to a large extent) is now part of the data revolution too. Ladies and gentlemen…..how you are now being entertained largely depends on data driven insights that people in this industry have acted on.
We had a chat with Shailesh to find out more about Ormax Media and how they use data to derive insights for the entertainment industry. Below are excerpts from the interview.
Give us a snapshot of your company Ormax Media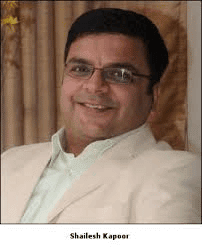 Vispy Doctor and I founded Ormax Media in 2008. We specialize in providing insights to the media & entertainment industry, which includes television, films, radio, print and branded entertainment. Our philosophy is to treat our clients more as partners and our main objective is to add to our client's bottom line by giving them relevant actionable insights, based on the data at hand. This data could be collected through quantitative, qualitative or secondary research as well as consulting frameworks.
Over the last five years we have worked on more than 500 media & entertainment projects, for over 80 media and entertainment firms. Our work with film studios and production houses include concept testing, film pre-test, campaign tracking, box office forecast, ad evaluation and music pre-test. We also work with television and radio houses to develop content and communication plans as well as research solutions to meet their specific needs.
Let's get straight to data analytics… Can you tell us about some of the analytic tools/products you use?
We are using several products in the area of analytics for the media and entertainment industry in India. Our most popular ones are:
1. FBO (First-Day Box Office) is our Bollywood tool that forecasts the opening day box office of all Hindi films. It is a part of our awareness tracking tool Ormax Cinematix, which tracks the marketing campaigns for all unreleased films. Based on the Ormax Cinematix scores and market variables such as scale of release, ticket price, holiday factor, etc., the FBO Model forecasts the opening day collections. All the top film studios are using this product.
2. Ormax True Value is our content testing tool for television. It tests a new program (either at a concept stage using audio narration or as a pilot episode) on a series of parameters and gives the channel an overall 'Ormax True Value Score' (out of 100), which can be used to assess the probability of the program's success and also estimate its opening ratings. Ormax True Value is available in separate variants for Hindi GEC serials, reality shows, kids content etc.
3. Ormax Moviescope is our film testing tool whereby we show an unreleased film to a sample of test audience and then administer a questionnaire. Data collected from this study goes as an input into the Ormax Moviescope Model, which can forecast the LBO (Lifetime Box Office) collections of the film, for a given first-day box office number. So, between FBO and Ormax Moviescope, the entire business of a film can be forecast with high accuracy.
All these products come with diagnostics support. For example if a film's FBO is less than its target first-day that the studio is chasing, we also have market, TG and content level analysis to recommend an action plan to increase the first-day.
Do you develop these tools in house?
All these tools have been developed in house. They run on SPSS and macros written by our team. Now that the data volumes have gotten bigger, we are considering moving to SAS in the next 3-4 months, starting with the First Day Box Office tool.
How easy or difficult was it to convince the folks in the entertainment/media industry that data insights could help them make better decisions?
It's been a journey over six years. In these industries though there are many corporates, there are as many family-run businesses as well, especially in films. Since these tools are designed to show the business impact (e.g. Revenue or Ratings), they come across as quite convincing to most clients.
How many data scientists currently on your team?
Since our business is very industry specific, we have purposefully built our insights team with people passionate about entertainment and who also have a knack for data, rather than the other way round. At present we have about 12 such people who fit this description. I have been an amateur statistician in my own right over the years, and am actively involved in all the modelling work we do.
Any plans to hire more this year?
Yes. We are in the process of collaborating with an International company on a breakthrough analytics tool. If that comes through, we will be looking to add to our insights team.
What do you look for when hiring data talent?
We look for domain expertise and passion, followed by data comfort. Our requirements are very category specific, so we need specialists
What are your predictions for the data industry in general?
Big data is fascinating. India is still figuring out how to use it. Technology and big data can potentially change the consumer research space forever. I'm very bullish on analytics and forecast models. Even if they have error margins, as long as these margins are transparent (known in advance), they can help take active business decisions day in day out.
Interested in a career in Data Science?
To learn more about Jigsaw's Data Science with SAS Course – click here.
To learn more about Jigsaw's Data Science with R Course – click here.
To learn more about Jigsaw's Big Data Course – click here.