Introduction
Design thinking is a crucial aspect of Creative Leadership. Leaders and entrepreneurs of today, who believe in carving their own way instead of following a standard path, rely on design thinking to re-imagine the future.
According to a study by Parsons New School, 75% of organizations self-report that they are engaged in design thinking. This article lists top design thinking examples to illustrate the success of the design thinking in such organizations that have aligned their problem-solving approach to the design thinking process to come up with creative solutions for their business problems. Through design thinking, professionals and creative leaders in any vertical can stretch their minds, think out of the box, gather inspiration, and create innovative solutions.
Let's take a look at the best design thinking examples by going through the case studies of various companies that have implemented the design thinking process to build better, unique, and user-centric products and solutions. Here is the list of our top ten examples-
Some Design Thinking Examples to Understand 'Leadership Through Creativity' Better!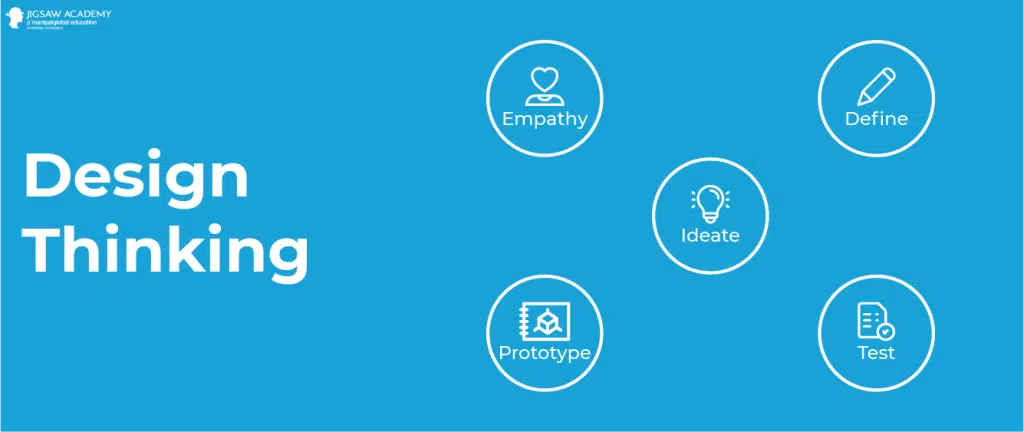 Here are some design thinking examples in real life for some inspiration:
1. AT Kingwood Trust UK
Some of the most fantastic design thinking examples can be found at AT Kingwood Trust UK. Here, a design team member got in touch with Pete, a non-verbal, autistic patient. She observed that he had destructive tendencies, such as picking on expensive sofas and rubbing indents into the wall. The designer started to document Pete's behavior. She observed that such action generally accompanied a rise in the overall psychological health of the subject. The ruined sofa and walls were perceived as interesting and fun.
Documenting the details led to a better design of the care facility that would enhance the subject's pleasure. Such a design thinking process example demonstrates how understanding your customer, or subject, in this case, can completely change the perception towards a problem.

2. Burberry
Another one of the best design thinking examples is the case of Burberry. Burberry's business model was disrupted by the advent of the digital era. It was already being written off as the fashion brand of the bygone era. Instead of being intimidated and unaccepting of the change, it's leadership decided to appeal to the Gen X users' sentiments and behavior. Thus, the company invested heavily in its social media strategy. It invited users to collaborate on its design processes. By doing this, it increased its appeal and connection with the audience. The brand was able to leverage digital to post record revenue growths.
3. Uber
Uber is another famous design thinking example. With the help of design thinking and a user-focused approach, it eliminated simple problems that had been plaguing customers in the past. It introduced features such as cashless payments, another great design thinking process example, to make transactions straightforward and reduce the chances of fraudulent activities. By providing the power to give ratings for both drivers and users, it increased the incentive for good behavior. Simple design tweaks, aided by a substantial user understanding, helped Uber pivot itself to the behemoth it has become today. It is one of the best design thinking problem statement examples.

4. Airbnb
Airbnb's success story is also one of the best design thinking examples. The unicorn startup's design thinking approach involved curating a unique experience that appeals to the expectations and demands of the global audience, while also ensuring an authentic and safe homestay for renters.

5. Bank of America
It is a huge corporation that is applying the principles of design thinking to an industry that is not renowned for focusing on the design aspects. They made observations of the savings habits of its target audience. By closely observing various human behavior patterns, Bank of America came up with the innovative "Keep The Change" program that was a huge hit.

6. Designing for the Homeless
'Designing for the Homeless' is a collaborative social program that is attempting to design shelter homes and better community townships for homeless people across the USA. The design thinking approach helps to closely understand the problems that the dwellers face and design innovative solutions to fight the challenges plaguing the homeless residents.

7. Clean Team
Working with Unilever & Water and Sanitation for The Urban Poor, Clean Team is helping to design dignified and clean sanitation systems for people in Kumasi, Ghana. They are helping to make lives cleaner, healthier, and more dignified. By integrating design thinking principles, the team worked closely to understand the full waste ecosystem and how the people responded to the challenges they faced. Today, Clean Team has constructed over 600 toilets and is working with over 4,500 people to design and deliver a sanitary toilet system.

8. Pillpack
It epitomizes a great design thinking project example. Pillpack is an online pharmacy that delivers prescription drugs. The company followed a design thinking approach while crafting its brand strategy, creatives, and overall design that really appealed to its consumer base. This approach paid off as Pillpack received rave reviews for its business model and recorded impressive growth numbers. In 2014, Time Magazine called Pillpack that year's best invention. Moreover, in 2018, it was acquired by Amazon for $1 billion.

9. IBM
When people think of IBM, the first thing that comes into their mind is technology, business, and computers. As their former CEO Thomas Watson Jr. declared, "Good design is good business", IBM has invested heavily in design thinking. They started holding empathy map sessions and kept users in mind while designing processes and products. Consequently, they have witnessed significant ROIs with this change in approach. They have also made it openly available.

10. Stanford Hospital
The hospital has been using design thinking principles to design better hospital wards and emergency rooms. They kept the interest and specific needs of the patients in mind, which boosted patients' well-being and psychology. It is another great example of how design thinking is spreading beyond the field of traditional business strategy.

11. Netflix
In 1997, Reed Hasting came up with the idea to stream movies to people's homes through the internet, and that's when it all began. Netflix is a prime design thinking example because it used the approach throughout its journey to determine what its customers wanted and needed and then changed its business model to meet those needs.
Almost $10 million a year was spent by Reed Hastings in 2001 to research streaming. In addition, he kept testing quickly and experimenting to see if he could make streaming video work. Netflix started giving it away as part of DVD subscriptions so people could see it. In this way, he made people get used to streaming while he kept adding to his library.
This option was finally made available in 2010, after 10 years of testing and experimenting. It was half the price of Netflix's regular movie-rental service at the time. Thus, it took over the market when broadband and internet services began to grow quickly.
They kept using design thinking to come up with new ideas. As time went on, it became obvious that customers were looking for more interesting content. Network Netflix made some changes to the way it looks and works in 2016 to make it even better for its users. There's no sign Netflix will stop, it keeps changing the way people use the service by using Design Thinking.
12. NIKE
Nike combined sports and design in the 1980s with the launch of Air Force One, the first sneaker with pressurized air technology designed to help athletes perform at their best. It quickly became a New York fashion sensation. Just one example of Nike's use of design to improve the user experience by gaining an understanding of their needs. '
Another design thinking example is NIKE's way to re-designed the Dunk Hi shoe with a transparent panel, allowing the wearer to express their individuality through the socks they choose to wear underneath.
The experimental collaborations begin at Nike Lab. Nike keeps looking for partners who can help them gain insights from their customers, which in turn inspires the company's designers. This allows Nike to focus on the need and better serve its most loyal customers.
How to Start With Design Thinking?
These design thinking examples that showcase how businesses can achieve success with creative leadership. The different design thinking problem examples mentioned in the article did not only help in saving costs from ideation to successful product roll-out but also increased customer retention and recurring revenue. You can also use these successful design thinking examples as inspiration for your product innovations. By following these examples, you can notice how they have executed a transformative product and innovation strategy by tweaking their processes a bit; and you must understand that the key to a successful design-thinking is customer-centricity and always thinking from the shoes of your target audience to uncover their needs, desires and pain points.
If design innovation thinking is something that grabs your attention, you can check out our Postgraduate Certificate Program in Design, Innovation and Strategy, which focuses on building the Creative Leaders of tomorrow.