I am far far away from the epicenter of the Ebola crisis and yet this deadly virus is making a very large impact on me. Anytime now my husband who is a humanitarian could be called to the frontlines, to assist with the massive global effort to control the spread of the disease. And though it's scary, this is his job and so we must accept it. However in preparation perhaps, I am psychotically reading up on Ebola. It's become almost an obsession and I dig out and find every article and blog that's being published on the latest developments on the fight with Ebola.
Being in the Data analytics and Big Data field I am heartened to see just how data is impacting the effort. In recent weeks, there have been some very interesting articles that have explained the role of Big Data in the Ebola control effort. I would like to share with you bit sand pieces from these articles, just so that you can get a sense of the importance of data and how in the years to come, this sector will have an even larger role to play in the detection and control of such outbreaks and epidemics.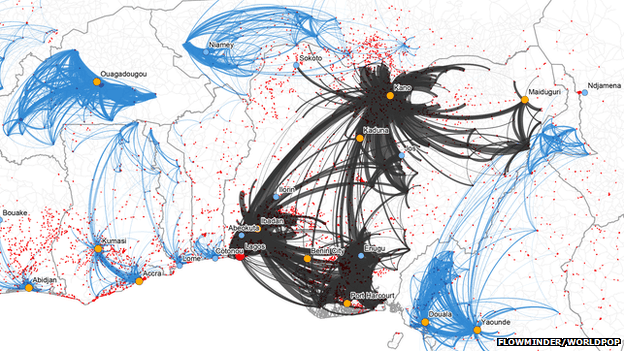 Mobile phone data from West Africa is being used to map population movements and predict how the Ebola virus might spread.

An article titled How big data could help stop the Ebola outbreak in CNBC talks about how one mobile carrier in Senegal has provided researchers with access to anonymized data gleaned from cellphones. This provides a window into regional population movements that could help predict the spread of Ebola. With an incubation period of between two and 21 days, during which victims may not know they are infected, determining where people are going and where they have been is essential to containing Ebola. As such, the model created using the cellphone data, combined with the latest reports from the World Health Organization, is helping to offer clues about where to focus preventive measures and distribute health care. Using information gleaned from a wide range of sources, such as social media, hospital updates and flight records, authorities are able to develop unprecedented insights into where and how to respond. Not only could this help save lives, it can also ensure that resources are allocated where they are needed most.
However the article goes on to say that though there is a mass of data available, what's crucial is that the data is interpreted correctly as misinterpretations could lead public health officials down wrong paths and only increase the spread of the disease. They say that while big data can help provide more detailed modeling, these are just reference points and a human eye is still needed to synthesize and interpret the information accurately. This re iterates our belief that data, though a crucial component to any analysis, is only second to a skilled and intuitive data scientist, who needs to be able to derive and communicate relevant and accurate insights gained from the data, effectively.
BBC published an article Ebola: Can big data analytics help contain its spread?, where the reporter explains how port, train and flight data gleaned by big data analytics company Qlik, which has developed an Ebola-tracking app, is helping track potentially infected people and helping identify who they may have come into contact with. This is extremely relevant as tracking the movement of potentially infected people can help curtail cross border spread of the disease.
Another article in Information Week, Ebola Outbreak A Test For Data Mining, Analytics talks about how the reliability of modern data mining and analytics approaches in predicting the progression of deadly diseases is being fully tested by the Ebola outbreak in West Africa. They also give us an example of how researchers at Germany's Humboldt University have developed a model that computes the relative risk of Ebola entering a specific country based on what they call the "effective distance" by air of that country from major Ebola infection zones. Instead of looking only at the distance between two countries, the model also looks at other measures — like the frequency of air traffic, transit points, and the number of travelers between specific airports in different countries — to calculate the likelihood of Ebola entering the country. "In a nutshell, places that exchange lots of passengers are more likely to have new Ebola cases rather than those that are closer but exchange fewer passengers.
I would also like you all to take a look at some very interesting simulations and visualizations that some individuals have done in the Ebola context:
Simulating a global Ebola outbreak by Marco Thiel and India Bruckner, a pupil from Aberdeen's St Margaret's School for Girls. They worked on a little model to understand the basics of the spreading of diseases in populations and the relationship to transportation networks. The model is very basic, but shows some interesting features and is very straight forward to implement in Mathematica.
If any of your Jigsawites, would like to work on some insights or visulaizations on the Ebola crisis or control effort, please do share the same with us. We will be happy to share it on our blog and do our part to promote awareness of the virus.
We all hope that this virus will soon be contained and the loss of lives minimized. In the meantime, lets all stay informed and do our part to stay healthy and safe.
Interested in a career in Big Data? Check out Jigsaw Academy's Big Data courses and see how you can get trained to become a Big Data specialist.
Related Articles:
How Important is The Human Element in Big Data?
Big Data has Helped Create a Driverless Vehicle
Big Data, Analytics and Mobile: The Future of Digital Tech.