MISB Bocconi and Jigsaw Academy inaugurate the third batch of the EPBA – "Executive Program in Business Analytics" course.
Jigsaw Academy, The Online School of Analytics, and MISB Bocconi, the world's only offshore presence of Università Bocconi, recently inaugurated the third batch of the Executive Program in Business Analytics (EPBA), a 10-month intensive program for working professionals. The big data analytics program will be conducted at Bocconi University's only offshore campus in Powai, Mumbai along with online classes. The third batch has 35 students with varied backgrounds and rich professional work-experience ranging from 3 – 20 years.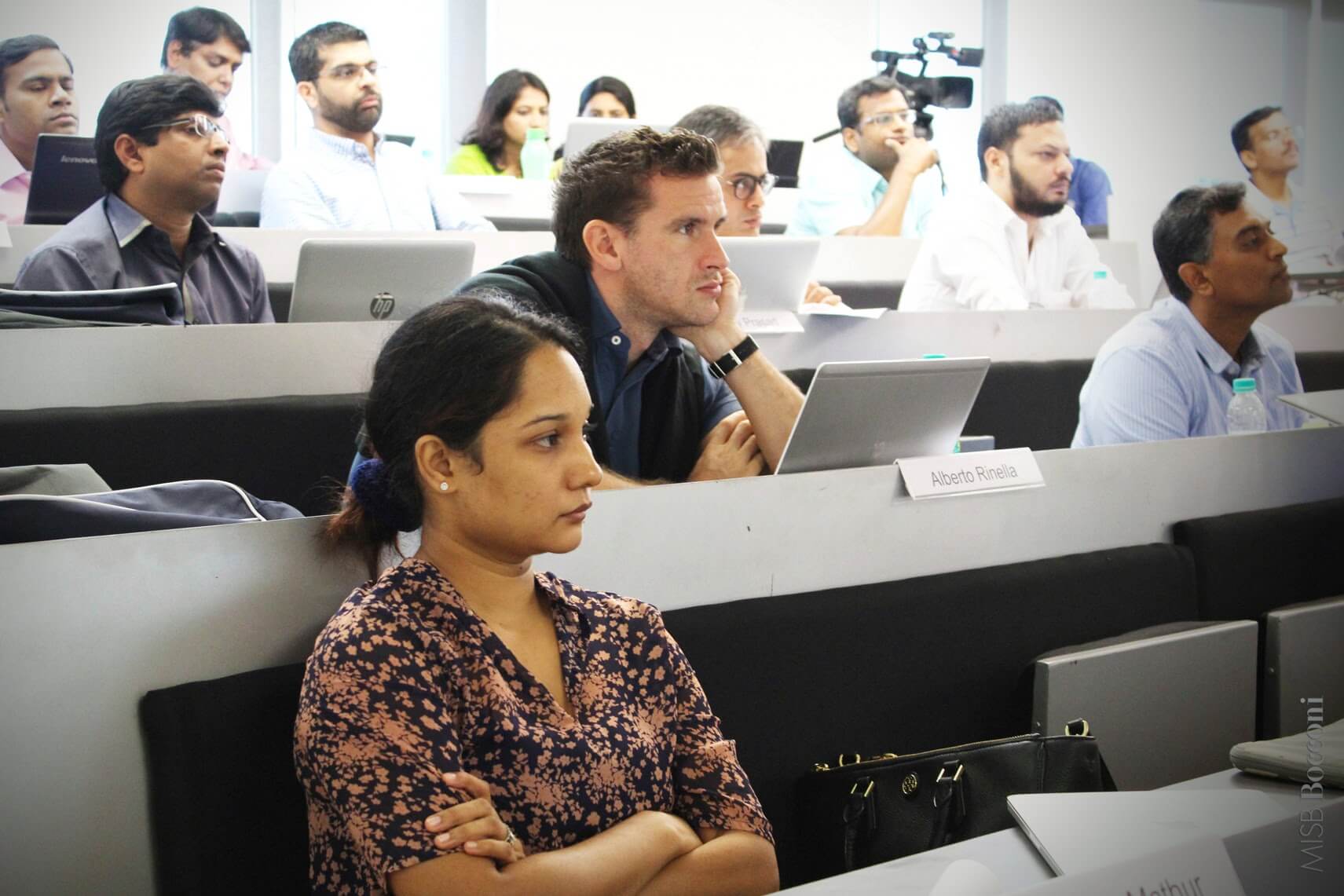 Image: Third batch of the Jigsaw – MISB Bocconi Executive Program in Business Analytics
Analytics and Big Data: The Differentiator
The 10-month program has been designed for working professionals keen on earning international certification without interrupting their careers. The program aims at providing in-depth knowledge with tools and technologies sought after by the industry, including predictive modelling, data mining, big data analytics, marketing, operations and risk analytics.
One of the highlights for the third batch of EPBA students is additional sessions on "Analytics and Big Data for Startups". India as a country is moving to be a hub for entrepreneurship and analytics helps aspiring entrepreneurs with the necessary direction to follow business objectives and provides metrics to have defined goals and outcomes.
Expert Speak
Prof. Veronica Vecchi, MISB Bocconi Executive Education Director, said "Our course stresses on linking analytics with business strategy and management. That is precisely what organizations need today as multiple skills in a single resource is greatly valued."
"The positive response to our Executive Program in Business Analytics is what convinces us that professionals do see great value in upskilling. It is critical today to have multiple skillsets – especially being able to work with and understand data," said Gaurav Vohra, CEO, Jigsaw Academy.
Sarita Digumarti, COO, Jigsaw Academy, The Online School of Analytics said, "Today, organizations recognize the critical role of data analytics in high-level decision making of every business function. Our course is a one-stop solution for professionals who seek for global exposure with data analytics tools and techniques."
One of the students from the current batch, Ankur Mehta, commented, "I was thoroughly convinced about this course because it was referred by an IIM Professor from Lucknow as against other courses offered by more revered institutes. The business focus of this course and the practical application of tools and technologies is one of the main reasons why I chose to take it up."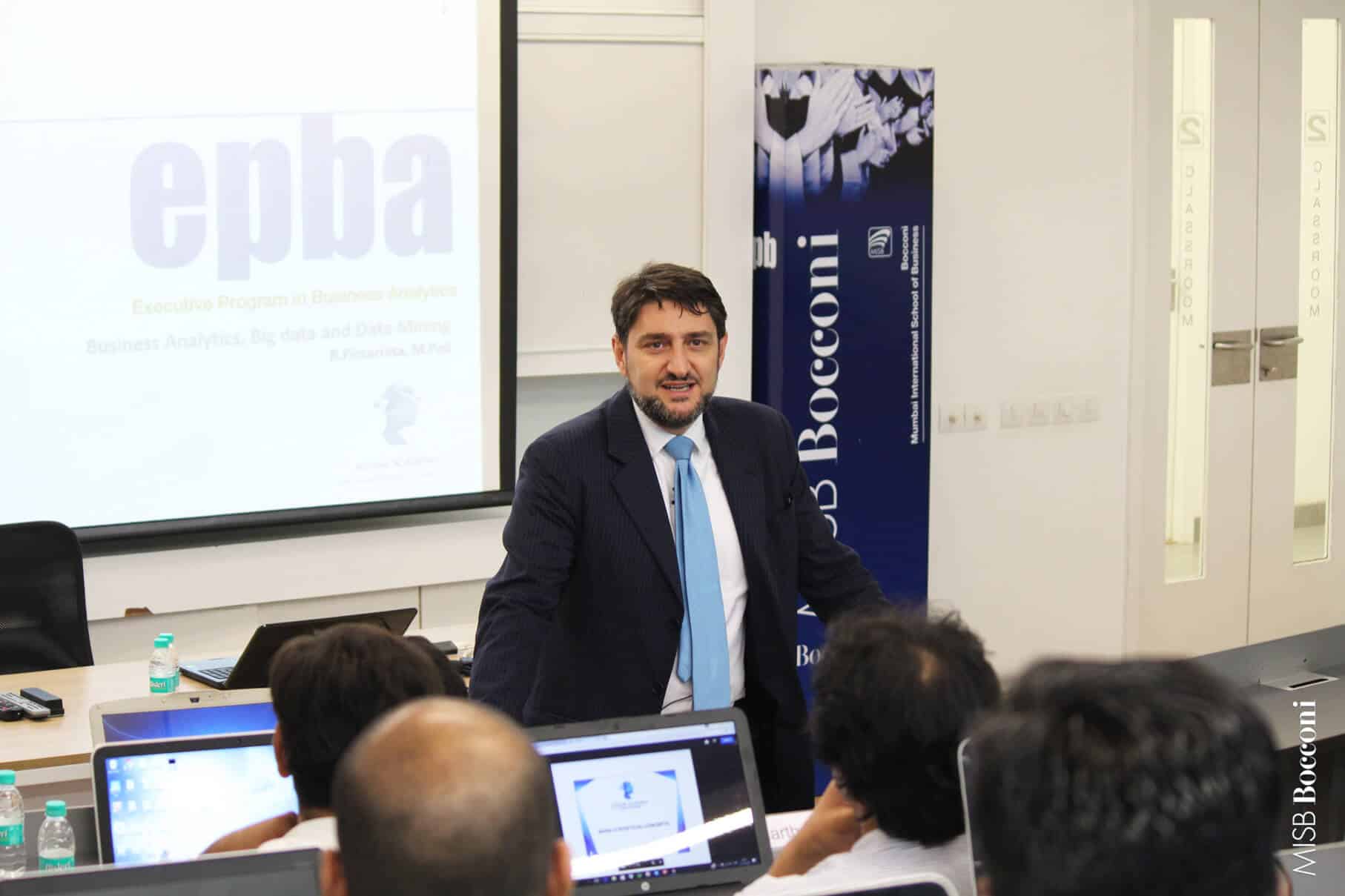 Image: Prof. Maurizio Poli addressing the Jigsaw – MISB Bocconi Executive Program in Business Analytics participants
The EPBA Advantage
The program participants will be taught and mentored by international faculty from SDA Bocconi and Bocconi University in Milan, as well as analytics experts from Jigsaw Academy in a blended learning model.
The program involves more than 500 hours of training, including 134 hours of in-person training held over six modules of 3 – 4 days at the MISB Bocconi campus in Mumbai. In the interim, Jigsaw Academy will also conduct 24 live online classes for a total of 60 hours, which participants can attend from any location of their convenience. In addition to the live online and in-person classes, participants will also have access to over 300 hours of pre-recorded video lectures on data science and big data analytics for a duration of 36 months. Upon completion of the program the participants will receive certification in business analytics from the SDA Bocconi School of Management.
About Jigsaw Academy
Jigsaw Academy, the online school of analytics, head-quartered in Bangalore, has trained over 40,000 students across 30+ countries in the most widely used industry-relevant data analytics tools and techniques. Jigsaw Academy's founders, Gaurav Vohra and Sarita Digumarti, have over 25 years of combined experience in consulting and analytics, across multiple industry verticals in India and the United States. Jigsaw Academy is funded by Manipal Global Education Services (MaGE).
Modified version featured in The Hindu Business Line.
---
Suggested Read
Why choose a Jigsaw Bocconi EPBA program over Analytics courses offered by Business Schools?