Niranjanprasad Bhagwat is a manager working with a Global Analytical Company, having 12+ years' experience with expertise in strategy implementation, business process improvement, and knowledge management. Niranjan completed his 10-month journey to learn analytics at the Executive Program in Business Analytics (EPBA) run by SDA Bocconi and Jigsaw Academy.
As a senior professional who is involved in many CXO and senior management level meetings at the company, Niranjan feels that he has picked up valuable skills and a right analytical path in these 10 months. You can find his profile here: https://www.linkedin.com/in/niranjanbhagwat/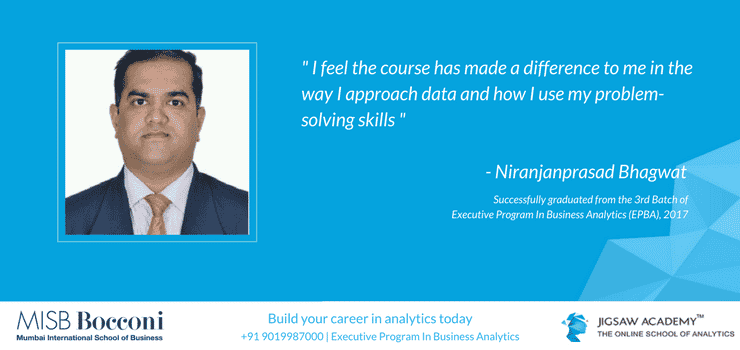 Let's hear it from Niranjan, in his own words.
In my current role, I am involved in many strategic discussions with the top management and I feel that the ability to work with data is very important in such a position. I, therefore, decided to enroll myself in the EPBA course last year.
I feel the course has made a difference to me in the way I approach data and how I use my problem-solving skills. There is a big difference in how I handle data now vs. a year ago. I have also started speaking the analytics language with a lot of confidence now and recently I even helped some colleagues with Python coding.
Overall, I consider the EPBA to be very good. The Jigsaw-Bocconi combination is the USP of the course and works very well. I think the International university branding is relevant for senior professionals like me. The course is very vast and you may not be able to cover everything in detail. So, my advice is to choose which topics you want to get into in depth.
The differentiator is the knowledge sharing sessions by the industry experts, especially the talks given by Sandhya Kuruganti from the Banking sector, Susan Mani from the automotive sector and Mukesh on Big Data.
The Bocconi faculty, like Prof. Poli and Prof. Tava, are brilliant and there is a lot to learn from them.
The capstone project helped us gain valuable business data experience.
The quality of the batch also impressed me. Most people had a fair bit of experience from different sectors and I really enjoyed interacting with them.
I would have loved to spend some time at the campus in Milan as part of the course. But we did not get a chance. However, this option will be available for the upcoming batch and I think each student will benefit from it. Since this option will be made available for my batch as well, I am looking forward to the opportunity.
My advice to students of upcoming batch of EPBA:
Devoting quality time to the course is very important. I know it's hard to do so when you are working but if you want to get the most out of the course, you must carve out the time. Solving assignments on time, going through the recorded lectures – all of this will help you do better in the course.
Collaboration and teamwork are very important at work. You get a chance to do that in the capstone project. Make sure you get involved and do your bit in the project.
One week in Milan will be very useful. Take the opportunity.
Focus on any analytics language. I have selected Python but everyone has their own choice.
Finally, I strongly believe that picking up analytics skills is the necessity and is important for every professional nowadays. This course will make you fall in love with data. It will change you as a professional, for the better.
Editor's note:
You can read more such accounts and advice from senior professionals who have decided to upskill with analytics:
Investing In Myself Landed Me The "Sexiest" Job of 2017!
Is Banking on Big Data the Right Move for Senior Professionals?
Analytics for Leaders: Leveraging Analytics as a Business Leader
---
Also Read
Top Data Science Experts on Twitter/LinkedIn You Should Follow