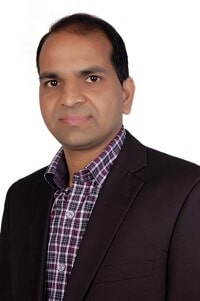 Bhoopathi Rapolu is a Big Data Strategist and is currently Practice Head – Analytics at Infotech Enterprises. With degrees from Osmania University and IIT, Kharagpur, Bhoopathi has a real passion for Big Data, as is demonstrated not only through his work, but also through his very interesting blog and numerous speaking engagements. Bhoopathi loves using technology to address business problems.
It's always Jigsaw Academy's quest to share the experiences and knowledge of data analytics and Big Data experts with all those interested in the field. We thought it would be a great idea to sit down with Bhoopathi and talk about the amazing world of Big Data and how he believes it is transforming and will continue to transform the world in remarkable ways. Snippets of his interview was also published as part of Jigsaw's recently released 2014 Salary Report for the Indian Analytics Industry. If you haven't already please do download the Salary Report now.
Everyone is talking about Big Data, defining it as the new big thing. Yet no one has a complete understanding of what this term really means. What to you is Big Data?
We are all very familiar with data processing, analytics, and data development. This is a three to four decade old industry. But there are certain data sets that cannot always be processed using traditional IT tools because of constraints such as file size, variety of data formats, time available to process it, and ease of data generation. But newer challenges are constantly cropping up. And in return, there are new tools to counter these, and hence the new name.
Primarily, the data was always there but these new attributes such as size, format, and speed have lead to the ultimate technology theme that we like to call Big Data.
When did your dream of being a part of the Big Data world take shape?
Despite being coined in 2000, the term Big Data was almost unheard of by most in main stream sectors until early 2010. This was around the time Gartner Inc. spread the word about the four governing forces in the market: Big data, Cloud, Social, and Mobile. And that was it. Big Data took off from there and found popularity in the field of IT where they were given the task of managing this data and making sense out of it.
While all this was taking place, I was working on BI and analytical areas in IT. For me, Big Data was an extension of what I was doing because I was in data warehousing. I felt the need to challenge myself and take this up. There was this vast untapped market with abundant opportunities and I felt that I could add value to it. So I decided to risk it and try to master Big Data analytics because at this point nobody had the experience and it was up to each one to take up the responsibility and understand the scope and strategy required to break into the new market.
This is the reality of Big Data. It is a fairly new concept that people are trying to master. Today we have most of the technology needed to process big data and people are continuously innovating and beginning to look at the real world applications and benefits of big data.
So how did you actually get your foot in the Big Data door, so to speak? Was it something you read, or a course, or was it just a concentrated effort to find your footing on-the-job?
I started out with a lot of self learning. I bought the best-selling books on Big Data from Amazon and went through them, cover to cover. I had to learn the art of connecting the dots. I had to rely on case studies and study the different methods in which Big Data had been utilized to solve operational and organizational discrepancies. I asked myself, 'How are my target companies solving problems? How do I solve a particular issue using big data?' This was the skill I focused all my energy on. That along with a conscious effort to be receptive and learn from others greatly benefitted me.
The one book that I would recommend to every Big Data enthusiast is Big Data: A Revolution that will transform how we Live, Work, and Think by Viktor Mayer-Schonberger and Kenneth Niel Cukier. I always keep this book with me! Let's just say it is my bible.
What are the top 3 advantages of Big Data, according to you?
It helps you understand the customer. I would say this is one of the biggest advantages of Big Data. Companies always want to understand customer likes and patterns and profile them to an individual level. Now they have voluminous data — customer preferences, income level, sex, etc — to help them target initiatives, products, and offerings to specific groups who have a need for them. The process has been found to have a relatively higher acceptance level when compared to a generic advertisement. This targeted marketing has come into play due to Big Data.
This is closely followed by Big Data's ability to optimize business processes. Most of a company's processes are recorded and automated and Big Data helps us collect attributes such as when a particular activity was started, how long it has taken, its approvers, and where it is stuck. This information makes it easier to look at the operational gaps and identify pockets of improvement.
And lastly, monitoring and controlling the health of humans and machines, the latter being my area of focus. And subsequently, this data also helps us predict conditions that could become a hurdle in the future and tackle them at a preliminary stage. Big Data is an elegant solution that enhances our understanding of the world and we are only just beginning to appreciate it. It is the telescope of the 21st century.
So what is the future of Big Data? What is its scope of growth? Can it be used in smaller setups as well?
We are already witnessing the benefits of Big Data solutions whether it's through social media, large scale e-commerce sites such as Amazon, or detecting financial initiations like frauds. This is the beginning. Recently a survey by Microsoft's estimated that about two thirds of the companies surveyed are sitting on about 100 terabytes of data today. Cumulatively, we are talking about hundereds of exabytes of data — it is going to scale even higher and so will the benefits. Five years from now what we perceive as Big Data will be completely different. We still don't know what Big Data can do because that is being redefined every day.
This subject has a vast spectrum of uses in almost every setup. But today a lot of technological evolution and innovation stems from smaller companies. Newer companies are entering the market and shining. And Bangalore is one of those centers of innovation with so many start ups setting up house here. Big Data is here to stay, irrespective of the size or value of the company.
Can you elaborate on some more challenges and how companies counter them?
Big Data Security is definitely an issue because the laws governing the mushrooming data haven't been formed yet. There is a lag in its implementation. But the government will catch up to it, that's the hope! On the contrary, what we also need to remember is that most of this information is willing or unknowingly shared by people on social media!
Another challenge is that a lot of technology and training is needed to implement data initiatives into a company. Identifying the right data sources to solve an issue takes resources that we sometimes do not have. There are times when data needs to be generated; we like to call it datafication, finding new ways to create data.
To understand this better, let's deviate a little. There are three big players in the Big Data world. The Data Owners, who have the ability to generate data but not the skill to utilize it. The Skill Owners, such as IBM, SAP, Microsoft, who can harness this data and build an algorithm with a real world use. What binds the two are the third group of people who possess Big Data Mindsets. These guys don't have data nor do they have the skill or technology. But they have the right mindset to visualize the problem and connect the dots. They are the problem solvers.
So how do the three levels come into play together? There was a professor in Japan who conducted an experiment. He datafied the way a driver sits on a car seat. The experiment involved putting sensors at 360 points and captured the pressure area on a scale of 0 to 256 to document how the driver sits, the driver's mood while driving, style of driving; every parameter needed to gauge the driver's personality and presence captured through the distribution of weight while driving. With this data, the professor controlled the security of the car such that no one except that particular driver could sit in the car and also helped driver by alerting during improper driving. This security and control mechanism was only possible because they knew what kind of data was needed and where to look for it. That is the key. This leads to the identification of newer markets, needs, and hence newer innovations.
For more insights of Bhoopathi Rapolu on Big Data hiring and the future of Big Data please download the 2014 Salary Report for the Indian Analytics Industry.
Interested in a career in Big Data or Data Science? Check out Jigsaw Academy's courses and find out how you can get started:
Related posts:
Meet Data Goddess Eliza Matthen
In the News: Jigsaw's Analytics Salary Report 2014