Most Popular Analytics Videos on YouTube
The faculty at Jigsaw in between creating all that fab content for their courses and taking classes and engaging with students, also spend time researching interesting tit bits about analytics in general, that they can share with you. This week Sawinder Kaur has come up with a list of most popular analytics videos out there on YouTube. These are a great resource for all of you who want to learn more about analytics.

It looks like the most popular videos help explain the meaning of data analytics, are tutorials on analytics tools or talk about analytic courses. The top 5 videos are all also less than two minutes in length and R and SAS seems to be the most popular analytic tools that people are searching for. Which of these videos have you watched? Which ones have you loved? Which ones would you want to share? Tell us…we are waiting to hear from you.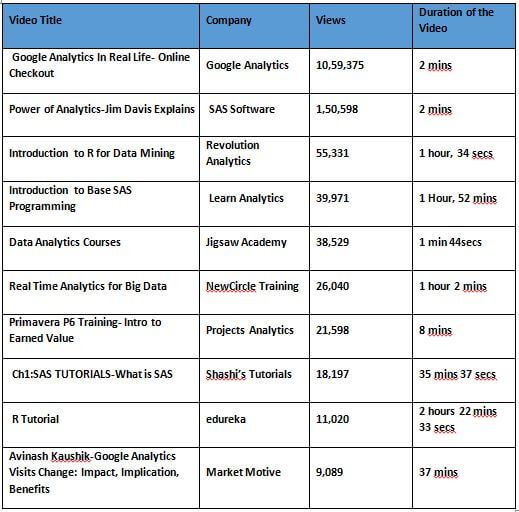 Similar Articles:
Top 10 LinkedIn Groups on Analytics
YouTube videos on R and SAS Training by Jigsaw Academy:
Interested in learning about other Analytics and Big Data tools and techniques? Click on our course links and explore more.
Jigsaw's Data Science with SAS Course – click here.