SAS, IBM, Angoss, KXEN, Revolution Analytics, Statsoft, WPL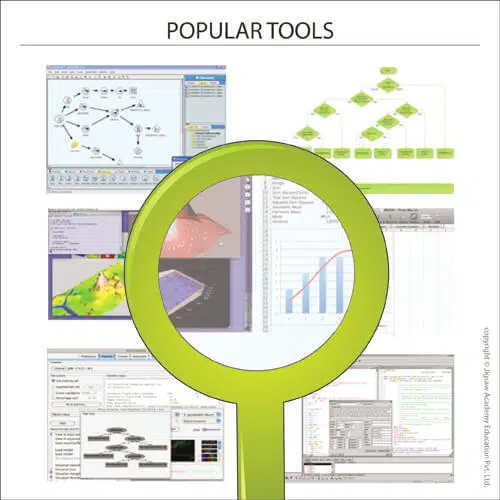 I am amazed at the amount of time and effort one needs to spend just to find the pricing details for even the most well-known analytic tools. This is especially true when one is looking for prices for the Indian market. Even the most established companies shy away from putting the prices of their products on the websites.
One of the big reasons for this is that the pricing of analytic tools is highly variable. The list price for many products is very high and the discounts vary from 0 to 95% of the list price. In addition, there is usually a separate pricing for educational institutions, which is highly discounted.
At Jigsaw Academy, we regularly interact with folks from various companies in the analytics tool domain. We are often asked to consult for analytics companies on what tools best fit their needs and the pricing for them as well.
So here is a list of software and their pricing in India. Please remember that the pricing information is not necessarily 100% accurate. What we will have will often be the list price and the final price may depend on how well you can negotiate with the various vendors.
SAS Institute Products
SAS licenses are priced based on the number of cores in the CPU of the machine the software will be installed on.
The minimum configuration is a dual processor server (ie. 2 cores). The most stripped down package will include the following –
Base SAS
SAS STAT
SAS Graph
SAS Access to ODBC
The price of 1 license for a dual core processor for the above mentioned package is over 20 lakhs or about $40000. This is the cost for an annual license which means you have to pay this license fee every year. We were contacted by the SAS Institute to clarify that the renewal fee for these licenses is lower than the first year cost.
A quad core processor (ie. 4 cores) will be priced at twice the cost ie. over Rs. 40 lakhs or $80000.
SAS E-miner, which is a GUI based product and includes features such as decision trees, neural networks and many other advanced predictive modelling techniques, is priced at over Rs. 1 Crore or $200000 per license. We were informed by the SAS Institute that this software is priced lower in the US market.
Angoss products
Angoss has a few different products in its product suite. The most well-known of these is Knowledgestudio. This tool is especially useful for decision trees, but can also do regression, clustering and neural networks.
The pricing for Knowledgestudio starts from over $25000 for a single license.
KXEN
KXEN has separate modules for data exploration, model building, scoring and social network analysis. KXEN believes in automating the whole analytics process and is a great tool for organizations with limited human resources.
KXEN does not come cheap. The license for a package that includes everything other than social network analysis is listed at $180000 for 1 license. This is a one-time fee and the AMC is 10% starting from year 2.
This means that a company buying a KXEN license will incur a cost of $180000 in year 1 and $18000 from year 2 onwards.
If the pricing seems too high, please remember this is the list price. Discounts on this can range from negligible to significant.
R-based tools
R is an open source tool which means of course that it is free. However, there are many graphical user interface based tools that have been developed on the R platform that come at a price. Revolution analytics is one of the most robust and popular of all of these tools. They are also one of the few companies that actually list their license cost on the site.
A single-user workstation license of Revolution analytics is priced at $1000. There are academic discounts and free versions available as well.
IBM
IBM has a suite of products in the space of analytics. The most popular is the SPSS modeler (formerly known as Clementine). The price for this starts from about Rs. 8 lakhs and goes up to Rs. 67 lakhs depending on the number of users, features etc.
IBM's SPSS Statistics is another popular product and prices start from about Rs 3 lakhs and go up to Rs. 17 lakhs.
Statsoft
Statsoft's product Statistica is another great analytic tool that offers a comprehensive list of features. The workstation licenses are priced from Rs. 1.25 lakhs to Rs. 2 lakhs. The server pricing is different from this and will work out a little more expensive.
WPL
Of all the software we have looked at, WPS or World Programming system offers the most value for money in our opinion. The World Programming System, also known as WPS, is a software product developed by a company called World Programming. WPS allows users to create, edit and run programs written in the language of SAS.
The license pricing is based on the number of cores (like the SAS institute products). A dual core server license costs a little over six thousand dollars for the year.
In this article we have covered the pricing information for the SAS Institute, IBM, World programming, Statsoft, Angoss, KXEN and Revolution analytics. Please remember, the pricing given here is based on our interaction with various software companies as well as information in the public domain. Jigsaw Academy is not responsible for the accuracy of the information provided here.

Other articles you may like –
Interested in learning about other Analytics and Big Data tools and techniques? Click on our course links and explore more.
Jigsaw's Data Science with SAS Course – click here.