Global cloud computing giants are making a big foray into India – LiveMint, Oct 2020
From Multinational Companies to personal devices, everyone uses cloud architecture today. From photo gallery backup and email storage to virtual desktops, software analytics, big data architectures, web-based applications, and even more, the cloud is practically everywhere today. The term 'Cloud' originated from the cloud-shaped flowcharts, which is often used to represent the internet in theory visually. Cloud services enable the storing and sharing of data and services over the internet.
It is cost and infrastructure friendly and provides complex opportunities with limited computational powers. Also, the Cloud architectural service providers run a great deal of profit by allowing a greater range of users to access their services.
An overview of the state of Cloud Computing in India
As all the top companies in India are changing their path from a traditional data-based approach to cloud-based applications, job opportunities in India have grown exponentially. It is estimated that the global market size of the Cloud Computing domain will expand from $371.4 Billion in 2020 to $927.51 Billion by 2027. While the global augmentation of the cloud is remarkable, the developing countries like India play an important role in bringing the Asia-Pacific region to the limelight, which is estimated to grow at the highest CAGR during the forecast period.
Cloud computing salary and popular job roles in India
According to IDC, 60-70% of the IT sector companies and almost 70% of all infrastructure, products and applications have started using the Cloud. Therefore, the demand for Cloud Computing Engineers in India has grown mostly in the last few years. As a result of this, the trend of getting into Cloud-related jobs has also increased by 33%. The search for seeking jobs in different Cloud Computing roles, such as Cloud Architect, Cloud Services Developer, Information Technology Architect, has increased to 108%. The most popular Cloud Computing jobs in India in 2020 are stated below:
Cloud Solution Architect
Cloud Engineer
Full-stack Cloud Developer
Cloud Service Developer
Development Operations Engineer
Cloud System Administrator
Cloud Data Engineer
Information Technology Architect
Cloud Network Engineer
The popularity of these job roles directly depends on the salary for the posts. Let's take a look at this job posts vs. salaries analysis, which will indicate which job posts are most popular.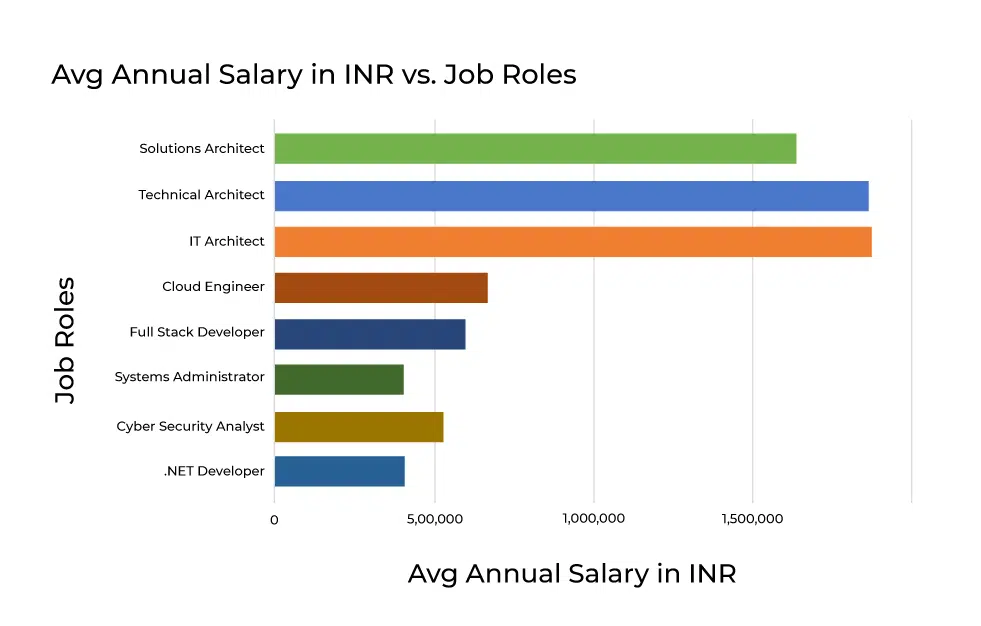 Based on geography, cloud computing salary
It is obvious that the IT hubs of India will offer more jobs related to Cloud Computing. According to several news reports, Mumbai, Bengaluru, Delhi, and Hyderabad are the top cities that provide the best opportunities as far as Cloud Computing-related jobs are concerned. The salary for those jobs is also dependent on the geographical location of the companies.
Based on professional experience salary for cloud computing
As we know, in every field, experience plays a key role in all aspects. If you have a job experience of at least 4-5 years, companies will prefer you more than newcomers. Similarly, in the field of Cloud Computing, experienced professionals will get the nod over freshers in terms of getting selected for a job. Professional experience not only controls the selection for a job post, but it also plays a significant role in the salary of the recruited person.
Increase in the recruitment of Cloud professionals due to the pandemic
COVID-19 has had a crucial impact on the Cloud market. Cloud Computing is one of the most popular domains, which is evolving remarkably during the pandemic. The pandemic left the offline working in a disastrous condition. Most of the companies adapted the concept of working-from-home, which presented its own pros and cons. This crisis created lucrative opportunities for Cloud Professionals in the first quarter of 2020 itself.
While the recession had hit several industries hard, companies providing cloud services were still hiring. AWS actively hired for the positions of Software Development Engineers, Product Managers, Account Managers, Solutions Architects, Support Engineers, System Engineers, Designers and more during the pandemic. Other cloud providers like Microsoft and Google also kept their gates open for skilled professionals. Microsoft has almost 4,000 open jobs mentioning 'Azure' on LinkedIn. The below analysis of cloud computing recruitment will shine some light on how and why cloud computing jobs are practically recession-resilient today.
Technical impact: Cloud Computing led to some drastic changes in the scenario. The companies were quickly able to transform from an on-premise structure to Public Cloud structures. It helped millions to connect quickly over a cumulative platform. Also, Cloud Architecture allowed businesses to scale, even amidst the crisis. Hence, it was easier to adjust the system according to a different audience. It also provided a closed and secure environment to test new solutions. That is why it played a significant role in the survival and growth of companies during the pandemic.
Hybridization: The Hybrid cloud platforms, where the Public and Private Clouds have collaborated fruitfully, became very popular. While companies had the facility to store necessary information in a secure environment of Private cloud, the multi-cloud architecture became prevalent because of its flexibility. There was suddenly a huge increase in demand for talents who have sound knowledge of hybrid cloud architecture.
Psychological impact: The COVID-19 pandemic left the human race in a situation of panic. Also, scientific evidence came up showing the possibilities of similar incidents in the concerning future too. In this scenario, no company or institution seemed to reject the lucrative opportunities of Cloud Computing. The market itself wanted to transform into a virtual system.
Statistics also support the drastic change in the market. The world Cloud market has shown a 12.5% increase, which is indeed remarkable. Tech giants like Infosys, TCS, Cognizant, Tech Mahinda, and HCL have increased the positions for Cloud Developers. The estimated open positions in various Cloud-related roles are given below: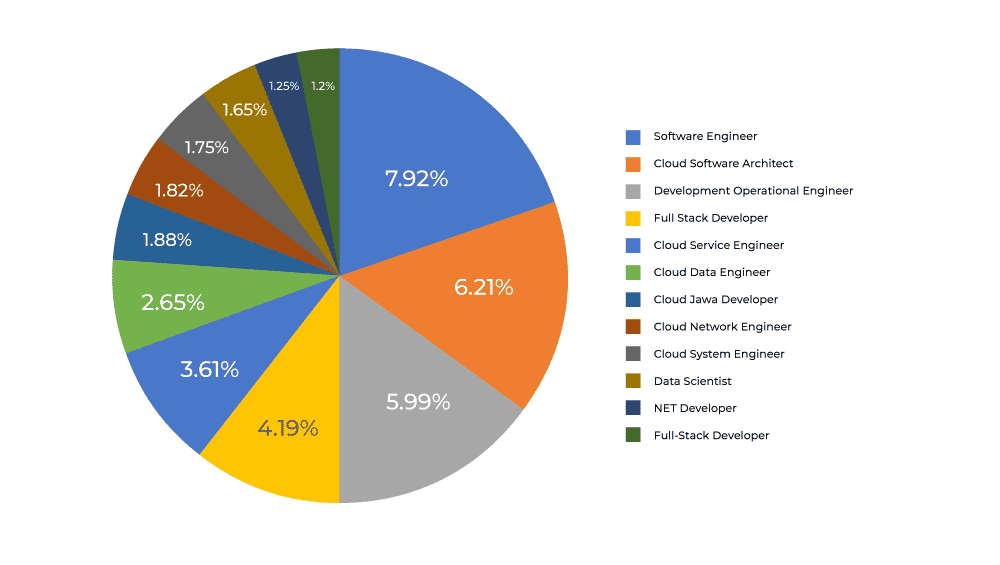 The salary trend in the Cloud domain
According to Forbes, there are more than 18 million jobs in Cloud Computing available worldwide. A starting job in the sector of Cloud Computing offers a salary of INR 5,00,000 per annum in India. The salary of a cloud professional will increase with industry experience and expertise. Experienced Cloud Computing Engineers who have worked for more than 15 years can earn up to INR 1 crore per annum.
Like mentioned earlier, in India, IT companies like TCS, Cognizant, and Infosys have started recruiting more and more professionals in the field of Cloud Computing. IDC confirmed in a statement that the tech giants of India would offer almost 1 million new jobs to the Cloud Computing interns in the next 2-3 years. Now, let's look at how the salaries differ based on various roles in the Cloud Computing domain.
Based on various roles
Let's take a look at the average annual salaries offered for the Cloud-related posts.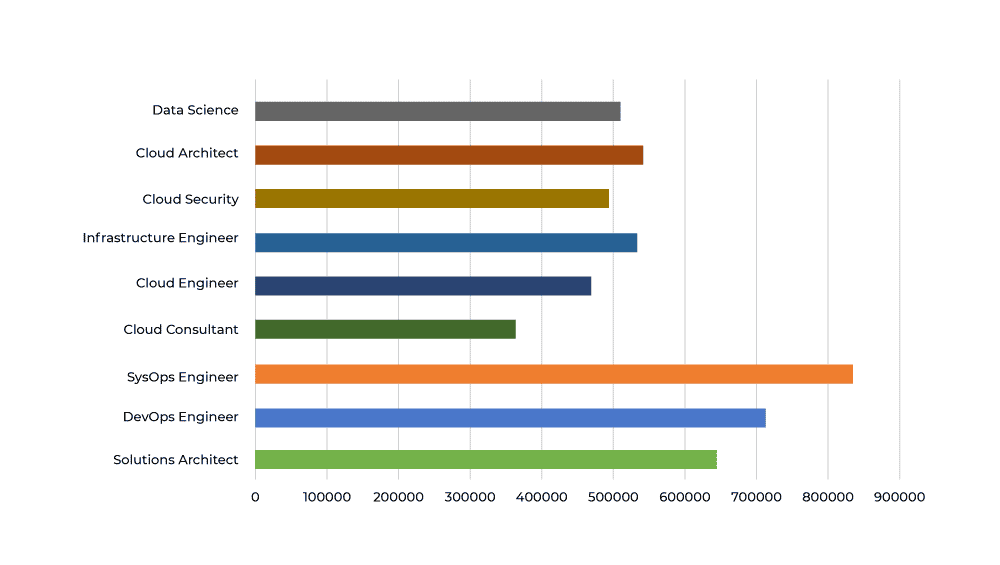 Based on geography
In India, the salaries of Cloud Computing professionals differ from place to place. According to PayScale, Karnataka, Mumbai and Tamil Nadu are regarded as top IT fulcrums of India. The salaries vary mainly because of the varied demand for Cloud Computing services and professionals according to regions. In some places, the demand for Cloud Computing is quite high, whereas some places lack zeal.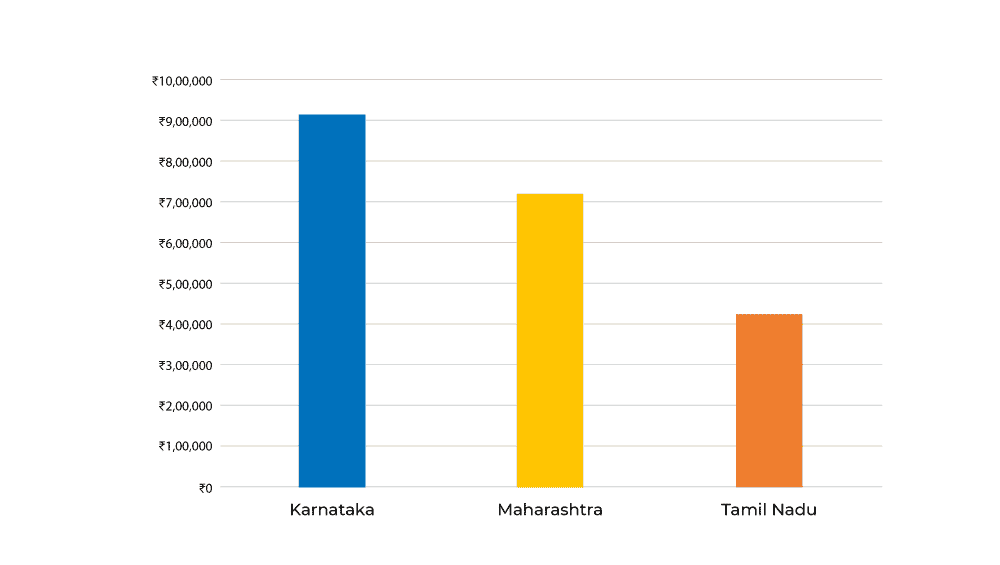 Based on professional experience salary for cloud computing
The average annual salary varies with professional experience and knowledge. With handy expertise by your side, one can earn a lot more than what they had made when they started off in the domain. Let us take a glance at the average annual salaries provided by some of the best companies in India.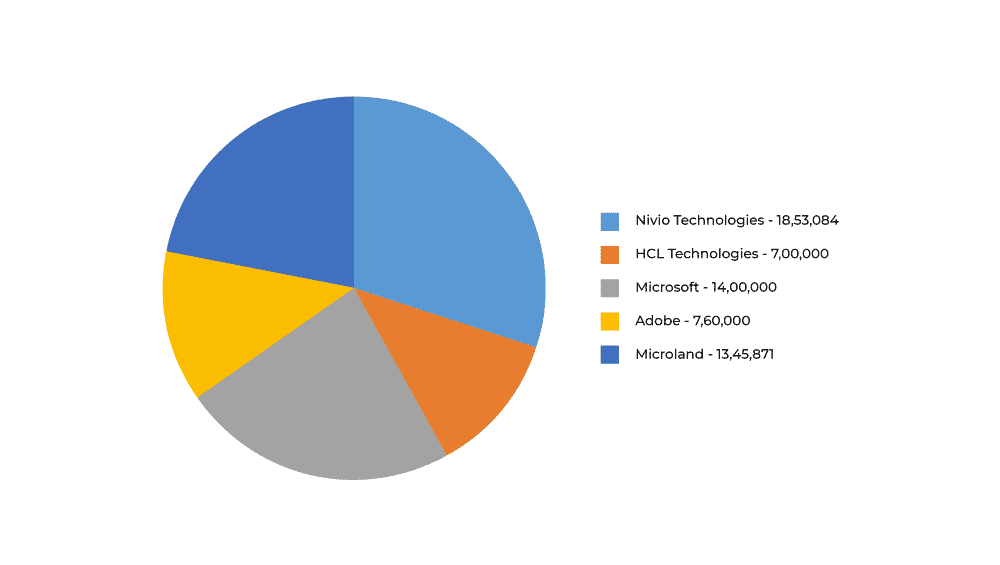 Now, as mentioned earlier, professional experience is the key when it comes to remuneration. Professionals with 0-3 years of experience earn an annual average of INR 12 lakhs, while with 4-6 years of professional experience, one can get up to INR 17-INR 19 lakhs in India as a Cloud Professional.
| | |
| --- | --- |
| Experience | Average Salary (INR) |
| 0-3 years | 12,41,000 |
| 4-6 years | 17,44,817-19,00,369 |
Skills required to become a complete Cloud professional
To grab the opportunities in the Cloud world, you need to gain relevant skills and build expertise in it. Cloud Computing being one of the recession-resilient and fast-growing technology domains in the world, there are ample opportunities for those who possess sound knowledge. The most relevant skills are as follows:
Database skills: In this era of big data, we generate around 2.5 quintillion data every day. So, companies are eager to be well equipped with data storing skills. The databases are primarily hosted on Cloud platforms. So, having a sound database accessing skills will have a lot of advantages. Knowledge of MYSQL and Hadoop will be helpful.
Programming skills: Cloud Computation has added a different paradigm in the world of development. Developers are now able to quickly design, migrate, build, and test solutions in a cloud environment. Python, Perl, and Ruby have risen to the occasion effectively. So, good programming skills are necessary. Python can be a good language to start with.
Linux: Many servers that are out in the market are based on the Azure platform. Azure is a Linux environment platform. Linux also powers many apps and web pages today. Since it is an open-source operating system, it is also getting a lot of usage with time.
DevOps: Development Operations or DevOps is a bunch of tools and practices that are used during product development. It ensures the quality of the product, all the while meeting the continuous delivery demands. It is a beneficial framework in terms of Cloud Computing.
Quality check: Quality testing is a phase of software assurance checking. A team of developers performs it.
Information security: Cloud information security is a crucial and few of the most sought-after job roles in the Cloud Computing industry. Developers must possess the required knowledge to become a Certified Information Systems Security Professional.
Networks: Cloud has a very integrated working environment with networks. So, knowledge of virtual networks will surely be useful in this field.
Cloud services: Having a good hand of practice with Cloud service platforms, such as Pivotal Cloud Foundry, Microsoft Azure, and AWS, will be necessary.
Upskilling with UNext's Postgraduate Certificate Program in Cloud Computing
If you have already developed an interest in Cloud Computing just by reading this article, there are various resources online that can give you a brief introduction to Cloud Computing. However, if you seek a full understanding and knowledge of the domain and become a complete Cloud Professional, the Postgraduate Certificate Program in Cloud Computing will be perfect for you.
Interested to learn more about our Postgraduate Certificate Program in Cloud Computing? Check out our website here.