Thanks to the team at vHomeInsurance for sharing their data and helping us learn more about Google Fusion Tables.
vHomeInsurance (www.vhomeinsurance.com) is the leading provider of local homeowner insurance data, research & analysis. Their home insurance analytics covers detailed neighborhood level property & rates for type of house. In addition, coverage also include broader policy & big picture drivers like climate change, policy & regulatory coverage that impacts a consumer's home insurance.
Google Fusion Tables is a free tool to quickly visually show & share data within your teams privately or with the larger world. The vHomeInsurance service, which has extremely detailed location specific data & analysis on home insurance has used their data to create a step-by-step guide on how to use Google Fusion tables to visually represent data.
Step 1: Start with Google Fusion Tables
Go to: https://www.google.com/fusiontables/ & click on Create a Fusion Table to start the process. (You must have a Google Account to use Fusion Tables)
Step 2: Import Data to Google Fusion Tables
We have three choices to import data to Google Fusion table 1) Upload a File 2) Import from Google Spreadsheets 3) Update Data from an Empty Table
For this case study, we have chosen the Google Spreadsheet option. Choose the Google spreadsheet you want to import data from and click Next
Step 3: Review Data Before Importing
Check the column names, data accuracy and other details before importing.
Step 4: Table Description & Details
Give the appropriate table headings, data source & other details for the table. If you want the data to be reused, choose the appropriate attribution type.
Step 5: Choose "Location" type for Geocoding
This is the most important step to correctly show the data on a map. For example, if we want Seattle Home Insurance rates data to show at the appropriate location, then we need to tell Google, which column has the city location. To do this:
Click on the column that has the location data

Then Choose Change

On the Next Page, Choose "Location" for the type

Then hit Save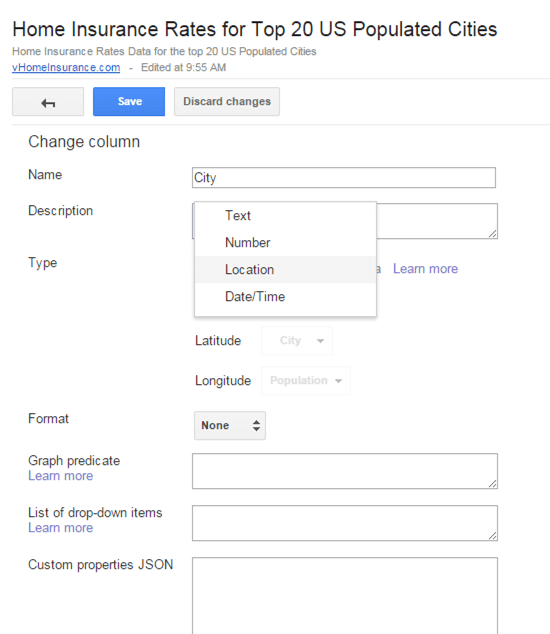 Step 6: Add Map to show the Data
To show the data on a map, Click on "Add Map". Geocoding & representation may take time depending on the amount of data you have to be geocoded.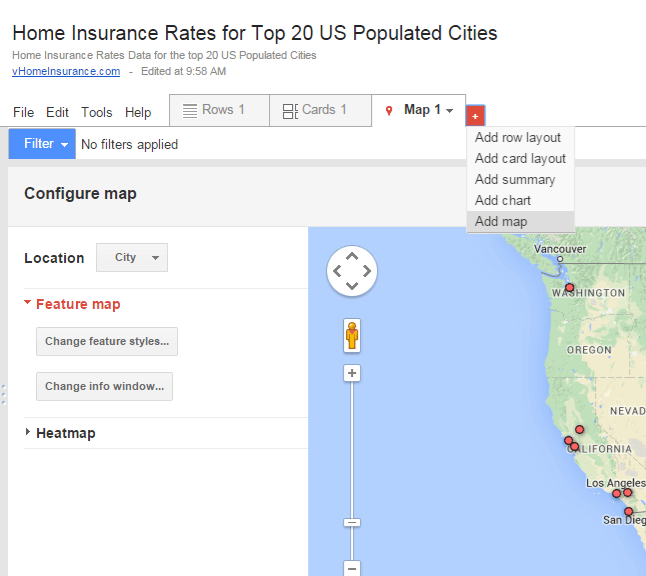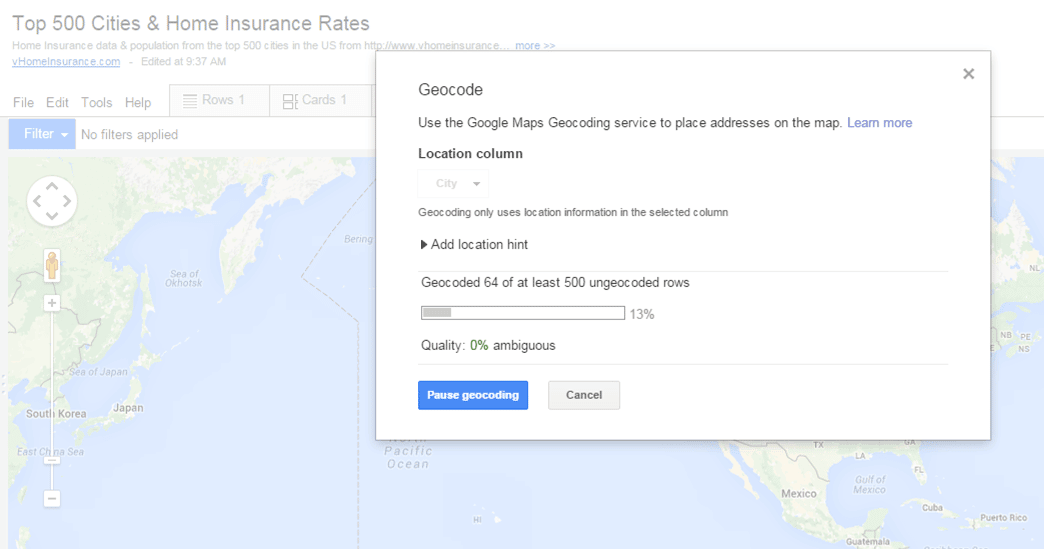 Step 7: Customize the Map & Markers
The default setting to visually show the data is in red circles. However, to make it more meaningful, we can create more customizations. For example, we can see show varying colors markers for different bucket values. In this case study Sacramento Homeowners Insurance is $558 and is shown in Green since it is in $1 to $700 bucket while Home Insurance in Jacksonville is in red because it is more than $1000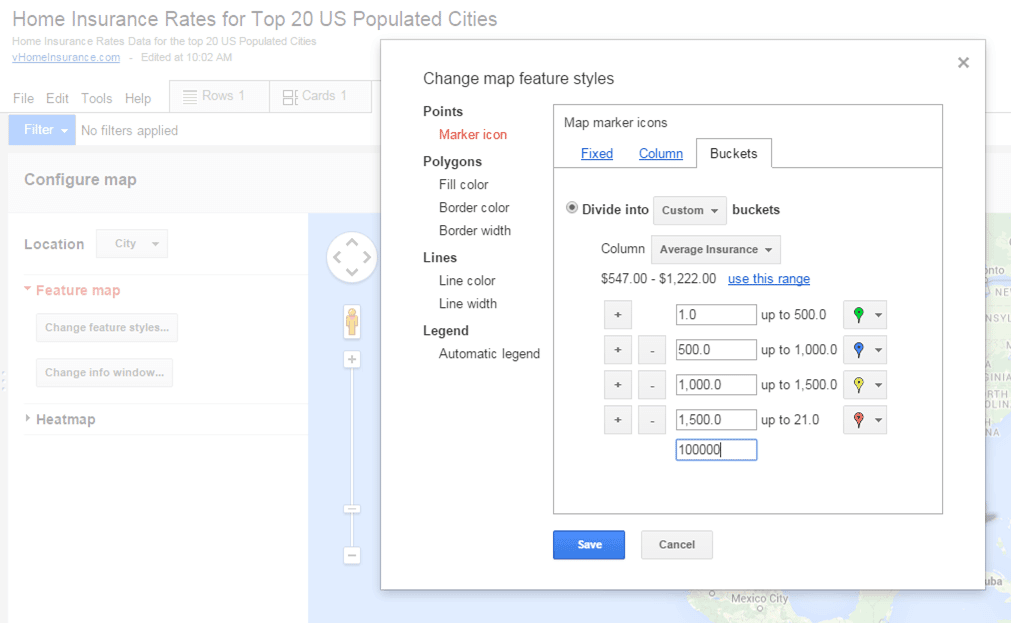 You can see the detailed embedded map showing various home insurance rates on vHomeInsurance and the image is also available below.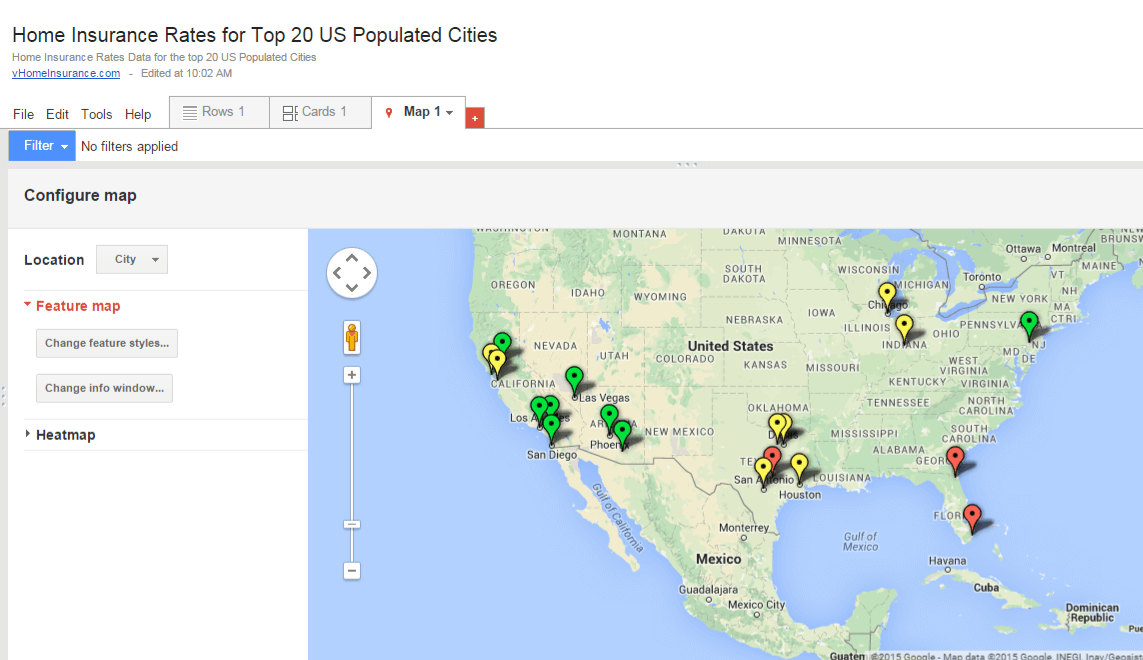 About the Author:
The vHomeInsurance.com team is a leading source of home insurance data analysis, research & visualization.
Interested in learning about other Analytics and Big Data tools and techniques? Click on our course links and explore more.
Jigsaw's Data Science with SAS Course – click here.