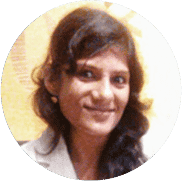 Let's meet Smriti Singh who switched successfully to banking analytics by learning industry-relevant analytics skills
Smriti, a self-described math buff, received a master's degree in applied statistics and joined a reputable market research firm. After learning more about analytics, she decided to shift to banking analytics. She found Jigsaw's website and was impressed with their curriculum. She completed a course from Jigsaw, which helped her crack the first interview that she appeared for. Today she works with HSBC as an Assistant Manager, and is confident about her future prospects in analytics.
Here is the story of Smriti's journey into analytics
How did you discover analytics?
I am a math buff, and my interest drove my professional qualification – M.Sc. in Applied Statistics from IIT Bombay. I began my career in market research. During the course of my job, the term 'data analytics' had started appearing in conversations. Curious, I researched online and discovered that it was a rapidly growing field with immense potential. What's more, since it's related to numbers, it was aligned with my interest area. Banking analytics seemed the most interesting of all streams, and I decided to switch.
How did you prepare for the transition?
To ensure a successful transition, it was imperative for me to learn industry-relevant analytics skills. After much research on recognized certification courses, I found Jigsaw Academy's website. Their courses seemed interesting and the curriculum was oriented towards practical knowledge. I enrolled for the Data Science with SAS course.
Tell us about the Jigsaw experience.
I was slightly apprehensive about joining an online course, but my full-time job left me no option. However, the course turned out to be a pleasant surprise, credit for which goes to the faculty. While the live sessions were quite interactive, the pre-recorded sessions offered flexibility of attendance – important for working professionals. The course had ample practical examples, which ensured great learning.
Did you have to spend a lot of time looking for jobs?
Not really. In fact, I had started applying for jobs midway through the course. Fortunately I got an interview call from HSBC for the position of marketing analyst. I was confident throughout the interview, as the material shared by Jigsaw and the concepts taught during the course were immensely helpful. Owing to the learning from the Jigsaw course, I aced my first analytics interview and was immediately offered the position. At my new job, I was able to contribute quite a bit due to my solid analytics foundation, and I was promoted to assistant manager in a relatively short span of time.
Any words of advice for analytics aspirants like you?
If I could join analytics successfully, so can you! Join a good course, be determined and stay focused on your goal. Work hard towards learning both theoretical and practical aspects of analytics, research all the positions you are applying for, and face interviews with confidence. I am sure you will take your career to another level with this field of the future.
Which Jigsaw course will prepare you for a salary hike? Try our course selector today
Suggested Read:
Incredible Salary Hike After a Switch to Analytics – A Jigsaw Academy Success Story of our Student Kanav Nayyar
Jigsawite Sandeep Mishra Talks About Getting Placed With Target And The Jigsaw Advantage
This article was originally posted on Jigsaw Academy's website