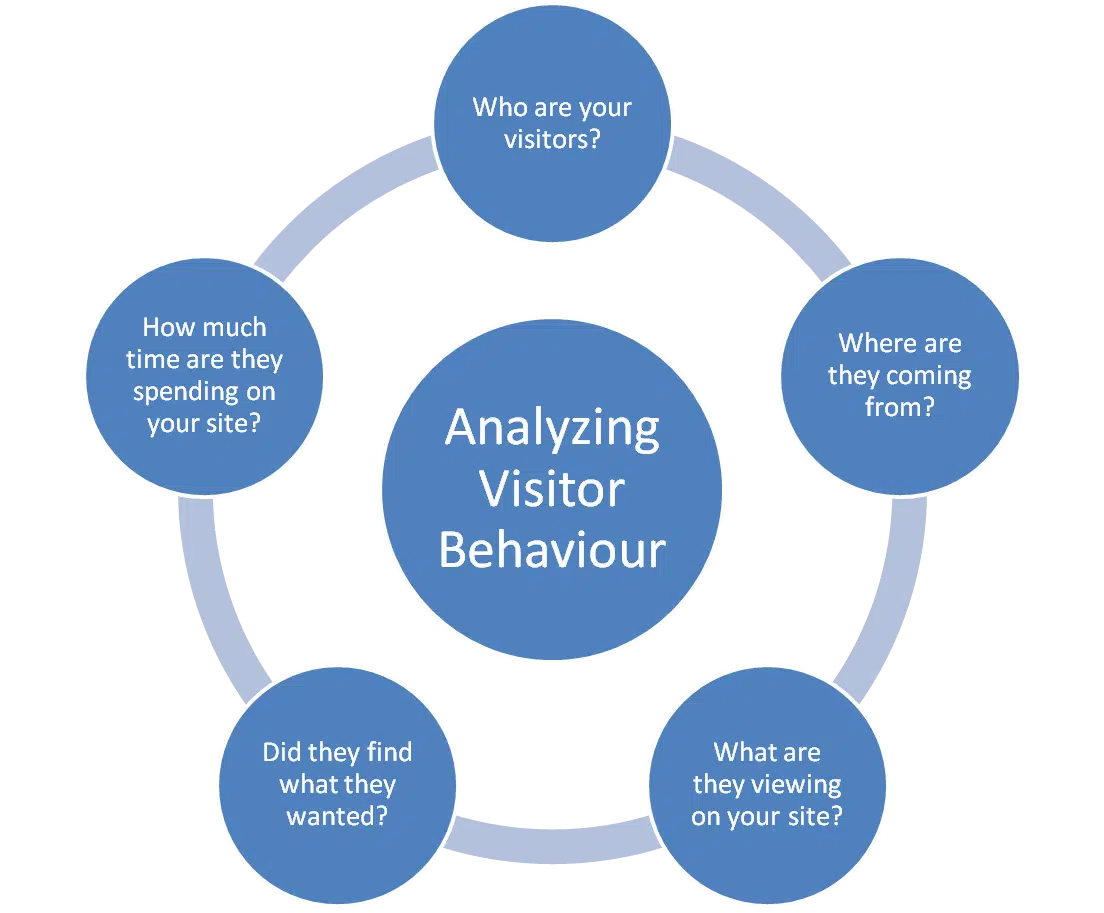 In simple terms, Web analytics is the study of online behaviour in order to improve it.
Let's start with an example to understand how web analytics as a solution can accelerate your business plan. Suppose you want to sell your brand (Bags) on an e-commerce site. What's the best way to help increase sale and help your business flourish? Well the answer can lie in the implementation of effective web analytics solutions.
Firstly it helps to identify those referral sources that generates most revenue for your business .Not just that. Information like which country your customers are from, which search engines they use, what landing page the customers lands in can also give you some valuable insights. But getting the customers to your site is just the first step. The ultimate aim is to get your customers to not just view your product (hits) but also to buy your product (converts). Maximizing the conversion rate is key to the game.
Here is where the need arises to monitor the user's needs and their behaviour and this can be best done using web analytics.
A web Analytics solution can help you in understanding the web data to acquire new visitors, visit path analysis, visitor behavioural analysis, search terms / search engines driving you traffic , pages that are visited most , etc. and drive what is most important – your profit!
Web analytics can help you analyse the various key performance indicators that helps to drive your business by monitoring:
Traffic sources like which search engine ,frequent keywords and referral sites that bring you most traffic
The number of unique visitors who visit your site and the sessions they make
The number of page views and time spent on your page
The path which visitors followed while browsing
Using web analytics a business can also:
Improve their ROI by doing behavioural Analysis of Visitors over time
Understand their Customer Demographics
Track other metrics like Click-through rate, number of conversions, type of referrals and bounce rate
By understanding the above metrics and the insights that they give, businesses can improve their marketing plans. Few examples of marketing strategies that you could employ to increase revenue are sending email offers of your products on a regular basis to frequent visitors, targeting customers specifically based on their demographics( like age,gender,income,etc) and frequently viewed products.You can also cut down your costs by only advertising your products on revenue generating referral sites.
There are many free web analysis tools that you can use. Some of the more popular ones are:
Google webmaster tools are best for understanding the behaviour of your visitors and tracking your search engine traffic. It also gives you the analysis report of the traffic that is coming from search engines.
Sitemeter gives a counter for real time traffic on your site.
CrazyEgg makes a heatmap of your visitors so that you can find about the clicks and visits of your readers to different parts of your site.
StatCounter is a free web traffic analytic service which provides free hit counters, visitor tracking, etc.
The best things about Compete which makes it different from other web analytics tools is that it helps you to Compete with other sites by giving you details on unique visitors, referring site sources and search engines keywords terms.
Alexa gives all bloggers and webmasters totally free traffic analysis reports. These reports include search analytics and demographics of your web traffic.
Other tools widely used are Google Analytics, Quantcast, Webtrends and Omniture.
Web analytics can definitely improve your bottom line. It's easy to use, not that expensive (often free) to implement and it can truly give you a complete picture of your customers, enabling you to serve them in better and more targeted ways.
Conclusion
Companies have recognized that fresh thinking minds are the need of the hour. A Business Analytics career path is one that puts you in an exciting, fast-paced environment where you will be working with the heads of your organization, right from the get-go! A profession that encourages you to think big, the Business Analytics career is challenging but rewarding! If you are interested in making it big in the world of data and evolve as a Future Leader, you may consider our Business Analytics Course, a 10-month online program, in collaboration with IIM Indore!
Also Read