Once viewed as an auxiliary department that is only responsible for paperwork rather than people-work, the Human Resource department is undergoing a massive transformation. Human Resources is one of those many areas that was in a dire need of a makeover, and the digital era has pushed for a radical approach in order to amplify the voices of the torchbearers of any organization – its people. Digitizing the HR role is a step towards achieving a more collaborative and efficient workplace environment.
Simply put, People Analytics and Digital HR structure the DNA of the organization in order to better align a company's output and resource aptitude. It's the beacon that brings innovation in any workplace by marrying intangible metrics, like culture, practice and talent management, with tangible keystones, like efficiency, innovation and impact. People Analytics is the waterways over which Digital HR rides; without goal-oriented and data-driven insights from People Analytics, Digital HR would be rudderless.
In recent years, People Analytics & Digital HR has been the focal point for millennial-minded organizations who want to leverage technology to build transparency. With remotely working, Bring Your Own Device (BYOD) and Choose Your Own Device (CYOD) becoming the norm, companies have realized that employee efficiency and employee experience is not simply about logging in between 9 am and 5 pm. Moreover, this digitization era has opened new pathways for organizations to connect to a global network of people, thus, increasing the need for digitizing the HR functions several fold.
People Analytics & Digital HR is not just a seeping concept in the West. India is one of the few countries that are rapidly bringing digitization to HR practices.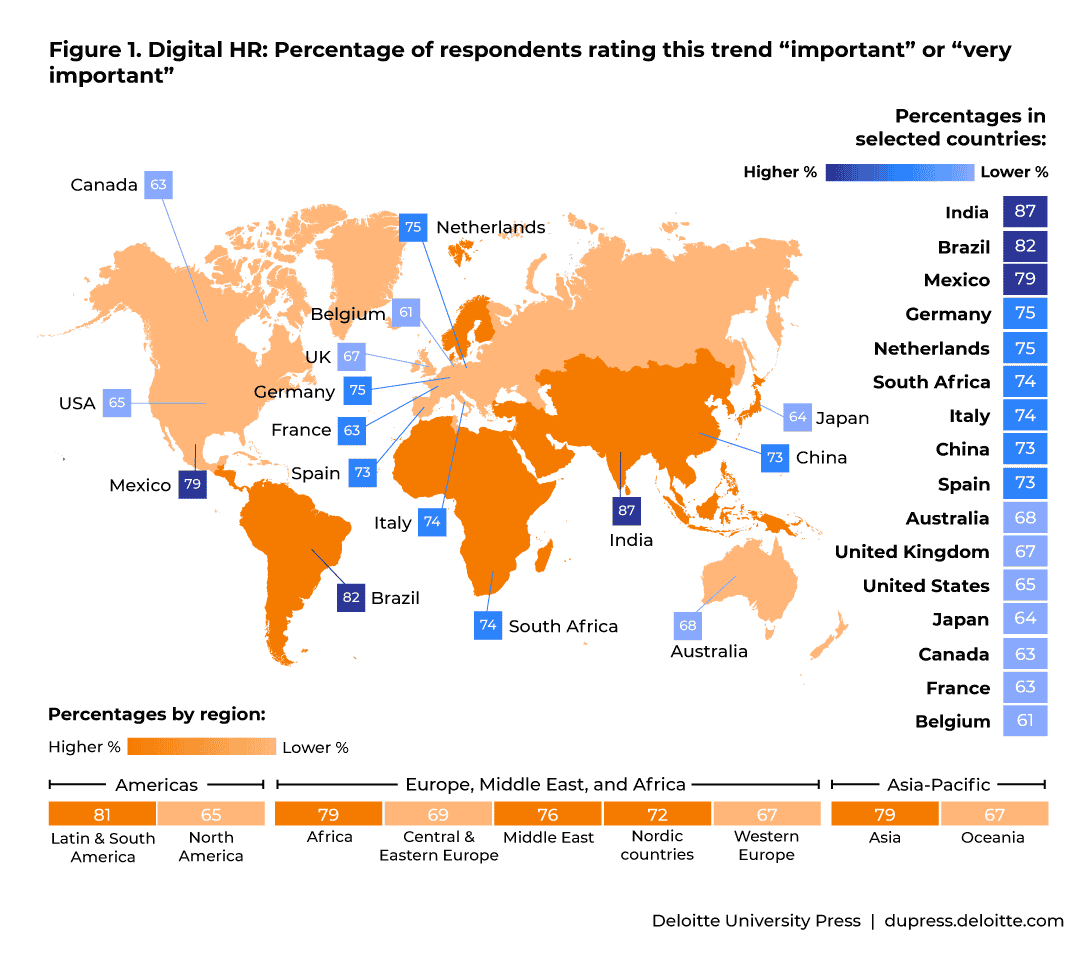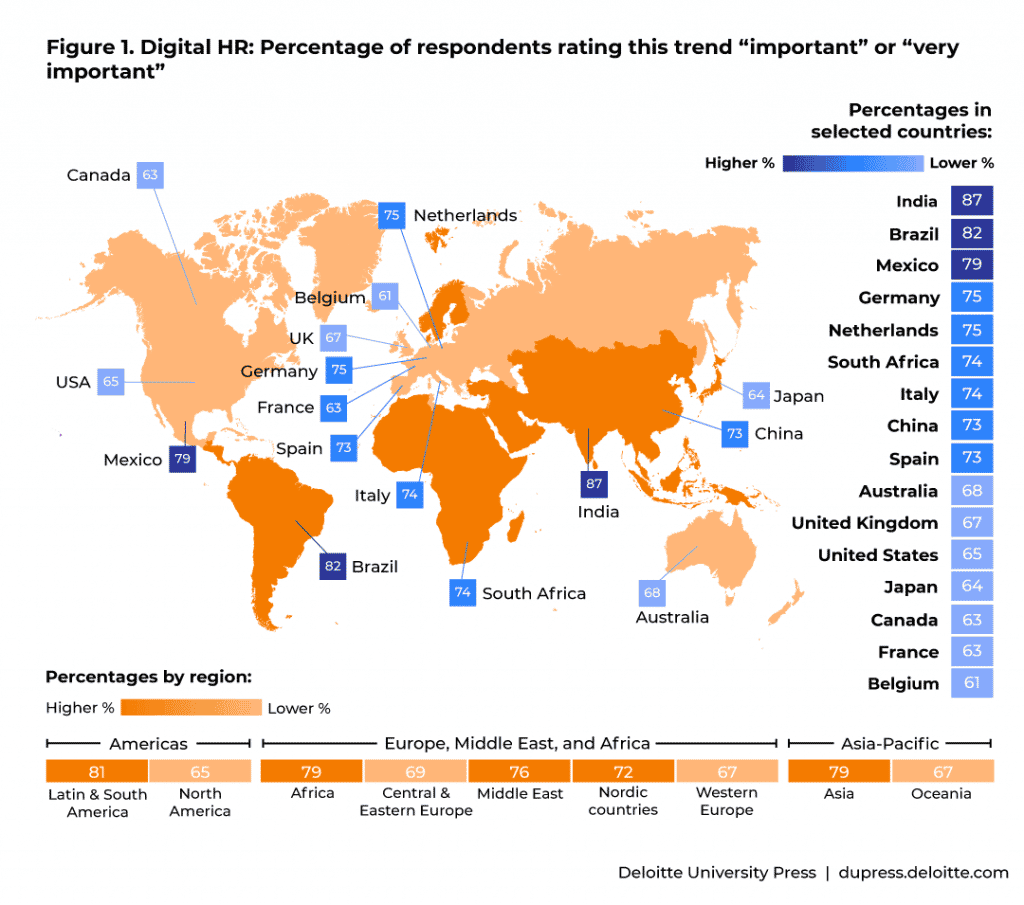 This Deloitte survey report clearly shows that India is not just a stalwart supporter but is also a pioneer in the People Analytics & Digital HR domain. India is a country of 1.3+ billion population who could do with some revamping on the HR front. Not only this, but we are also a leading global outsourcing partner. More than 50% of the Fortune 500 companies outsource to India. As a global service provider that caters to the whole world, digitizing the Human Resource department has tremendous benefits in realizing the potential of the country's biggest resource.
Companies in India and abroad are looking for talented young individuals who can rewrite the rules of Talent Management. According to Indeed, HR Analysts in the US earn an average of USD 60,344 per annum. Senior-level HR executives can earn an average of USD 104,158 per annum.
In India, entry-level HR Analysts earn about INR 4 – INR 6 lakhs annually. However, this is just an average. The pay could be 50%-70% more in some regions (especially in cities like Bengaluru, Chennai, etc).
Popular Job Roles in the People Analytics & Digital HR domain
Sr. Manager – HR Analytics: These professionals oversee large-scale HR products, analytical projects and design-innovative HR solutions based on the people-data in order to meet business goals. HR Analytics Managers are required to form strong relationships with senior stakeholders.
Global People Analytics Specialist: This role involves the collection, analysis and maintenance of employee engagement data, using a suite of HR capital systems and SaaS tools. The People Analytics Specialist handles the overarching analytics path for multiple key projects, including the design of Worldwide Employee Survey and Upward Feedback.
Specialist HR Intelligence & People Analytics Lead: This title manages the development, creation and documentation of platform-level HR reporting and metrics. The professionals are expected to provide consistent and clear communication of HR data and trends (like demographics, compensation decisions, talent management, and talent recruiting). The role is very similar to that of an HR BI (Business Intelligence) Specialist.
Head of People and Culture: The Head of People and Culture works closely with the CEO and Senior Management and is in charge of ensuring high employee engagement outcomes. The role requires overseeing all day-to-day HR functions, Industrial Relations, Occupational Health & Safety, and risk functions to ensure a responsive and agile business model partnership. According to Glassdoor, this role would provide an annual average compensation of INR 28,00,000 in India.
HR Business Intelligence Specialist: An HR Business Intelligence Specialist uses Business Intelligence (BI) platforms for the development, implementation, and communication of employee performance results. HR BI Specialists work with Senior Human Resource leaders on data collection, presentation, and storytelling to aid business decisions.
The People Analytics & Digital HR domain is at its nascence, and the real pioneers are the recently funded startups who are more likely to be found on sites like Angel.co. While it may sound outlandish now, the word 'Employee Experience' has featured 2.4 times more on LinkedIn since 2014. Today, Digital HR experts are hailed as HR Specialists or Employee Experience Specialists.
So, who are HR Specialists? Moving away from traditional HR roles, companies that hire HR Specialists are looking for professionals who can engage teams beyond the occasional social gathering. They know how to use AI and Behavioural Analytics in HR operations and functions. Right from recruiting the most viable professionals to creating highly-motivated teams who have the right mix of innovators, challengers, risk-takers, pragmatists, and solution-seekers, HR Specialists help a workplace achieve an optimum level of productivity.
The Future of HR: An Aftermath of the Pandemic
As with most digitization roles, People Analytics & Digital HR was already on its way to discover new tools and technologies that help collaboration on-the-go. Those who were up-to-date with the trend benefitted the most this year. Why? They were well-prepared to handle an employee engagement crisis. With everyone suddenly having to work remotely, it was important to have specialists on board who knew how to get people to work together during an unprecedented crisis. HR Specialists are being hired specifically to deal with the challenges of remotely working. They not only make sure that employees are comfortable in their new environment, but some even go the extra mile to hire therapists to help their employees deal with mental stress caused due to the pandemic. Most importantly, Digital HR Specialists are experts in migration tools and know exactly what software and tools are needed to be implemented to ensure a smooth workflow. Such vast knowledge is immensely helpful in a situation like the COVID-19 pandemic.
HR Specialists have even stepped in to make companies realize the greater savings opportunities in the current work-from-home system. In fact, 75% of CFOs interviewed by Gartner responded that up to 5% of the total staff might end up remotely working permanently, with potentially more to follow suit.
Several leading organizations, including Shopify, Coinbase, Upwork, Twitter, and Facebook, have embraced the work-from-home system. Payment gateways like PayPal and Payoneer have helped organizations hire remote full-time, part-time, and freelance employees from around the globe. A global workforce not only allows for cost-savings, but it also makes way for new perspectives. This is an excellent opportunity for India, as we are a trusted nation for any outsourcing. In fact, a recent NASSCOM survey showed that 80% of the European and American companies say India is the most valuable nation for outsourcing. In terms of hiring, HR Specialists would be equipped with predictive analytics and behavioral tools that can be used to implement a standard protocol to sift through a large global database of potential job seekers. If the trend is to continue, there is every reason to believe that the need for People Analytics & Digital HR Professionals is only going to go up.
In keeping with the global workplace trends, People Analytics & Digital HR Experts are also being hired as remote freelancers by large and small international organizations.
Salary Trends in the People Analytics & Digital HR Domain
Pay By Experience
HR Analysts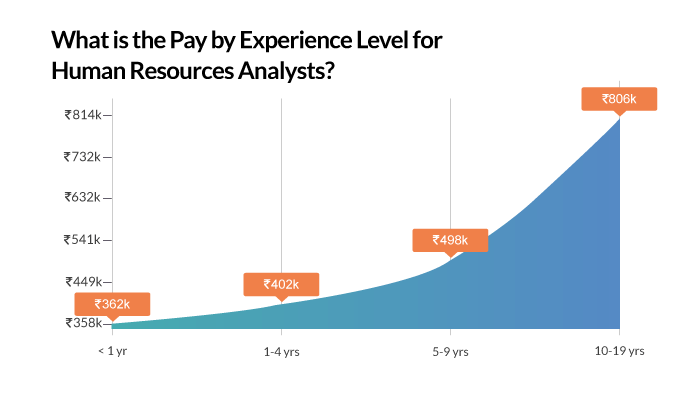 HR Analysts usually fall into the traditional HR role category when it comes to remuneration. As seen below, HR Analysts with 1-4 years of experience earn a yearly average of INR 4,01,596, while mid-career professionals are compensated at INR 4,94,295 per annum. Senior professionals earn a maximum of INR 8 LPA.
HR Specialists
Digital HR professionals like the HR Specialists are far better compensated, as seen below.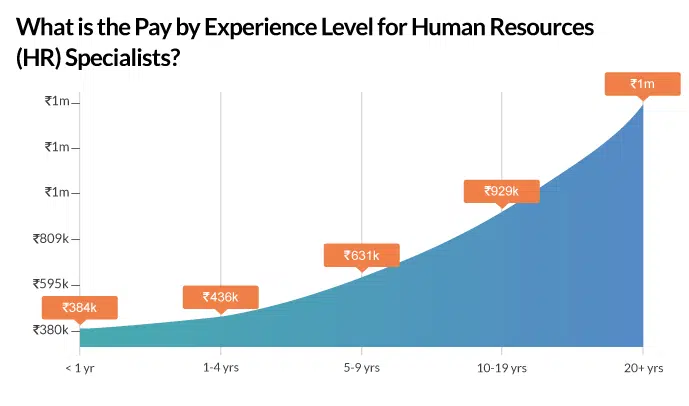 An early career HR Specialist with 1-4 years of experience earns INR 4,36,434 yearly, while a professional with 5-9 years of experience earns INR 6,30,669 annually. What's interesting, though, is that senior professionals make INR 14+ LPA. The most staggering difference, however, is the steep curve, which indicates that promotions are much faster for HR Specialists compared to traditional HR roles.
Average Salary of HR Specialist Based on Geography
Gurgaon and Hyderabad top the list in terms of gross average pay.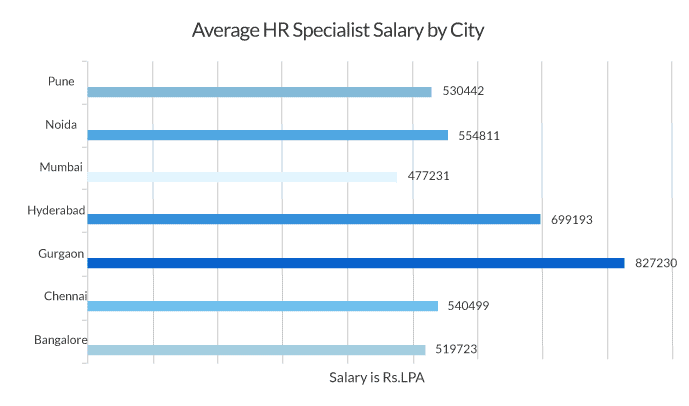 3. Human Resource Information Systems Specialists
The Human Resource Information Systems Specialists are by far the most well-compensated.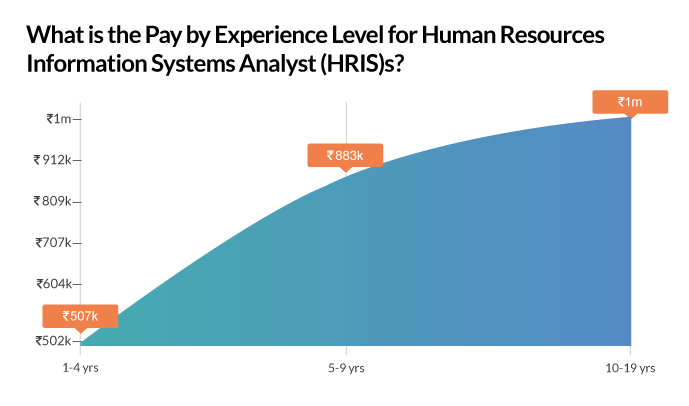 Although this curve indicates a plateau, it does not represent stagnation. It suggests that HRIS Specialists tend to move on to higher management cadres.
It should be noted here that many Indian companies like Zomato, OYO, Ola, and more are currently gaining a foothold in the international market. An HR Specialist would be a part of such core teams and are very likely to take stakeholder positions as they are deeply rooted in the people who are going to build the company's international base from the ground-up. This is a wonderful opportunity for those HR Specialists who wish to straddle the line between workmanship and entrepreneurship.
In terms of cities within India, the developing regions are more interested in hiring HR professionals. This is an indication of the vested interest of established companies to move out of saturated markets and onto newer and possibly greener pastures. After all, who better than a people-person to take your organization to new places and, consequently, newer heights.
Companies in India are Rapidly Hiring for These Vacancies
HR Business Partner: These professionals review and analyze business unit data to identify trends and recommend solutions to improve performance, retention, and employee experience. The annual average pay for an HRBP is INR 798,042, with New Delhi, Bangalore, Gurgaon, and Chennai being the highest paying. There are about 13,835 HRBP vacancies in India, and a majority of the roles fall in the INR 6-INR 15 LPA salary package range.
C&B Consultant: This job role includes performing deep analysis of the effectiveness and competitiveness of existing compensation programs. Much of the analysis is on a global scale. Compensation consultants show a whopping 20,000+ vacancies on Naukri.com.
HR Operations & Data Management: Although a new role, there has been a recent surge in need for HR-specialized data managers, who are able to analyze the employee-pool for performance and productivity. Amazon, Genpact, Essel, and Accenture are among the top hirees for this role. This role is considered as version 2.0 of a typical HRIS role. An HR operations manager earns an average of INR 8,74,286 in India. Naukri.com shows 7,000+ vacancies for HR operations.
Employee Experience Specialist: Employee Experience Specialists help organizations in finding employees that fit best with their culture and build strategies to support employees with tailored learning opportunities. An entry-level Employee Experience Specialist earns an annual average of INR 4 – INR 5 lakhs in India.
HRIS Specialist: Human Resource Information Systems Specialists are experts in HR tools and programming software in particular. These tech-enthusiasts are crucial to organizations that are just starting to set up HR systems and tools on the cloud. Although Cloud HR has been around for 2-3 years, the pandemic has accelerated the pace of adoption. An HRIS Analyst can earn an annual average of INR 8 lakhs in India.
Skills Required to Become a People Analytics and Digital HR Professional
A Digital HR role is multifaceted. It requires equal adroit in both technical and people skills. More importantly, though, People Analytics requires a wholesome grasp over data–how to leverage and exercise value from a vast but largely loose and intangible data silos. One could think of it as an advanced sociology role wherein behavioral traits are mapped to create a fully-functioning organic ecosystem that forms the soul of the organization.
The following traits are of foremost importance to be a skilled People Analytics and HR Professional:
Interpersonal Skills: Outstanding relationship building skills with the ability to communicate and resonate with colleagues is step one to excel in Digital HR.
Excellent Coordination Skills: With meticulous attention to detail, robust organizational skills, including strong scheduling and coordination competencies, HR Specialists are able to connect seeming strangers and make them work like magic. They are the cornerstone on which the workplace relationships rest.
Reporting and Analytical Skills: Reporting and analytical skills help HR professionals to effectively communicate what they observe through data to the stakeholders. Ultimately they form bridges where no chasm should exist in the first place, i.e., between employer and employee.
Tech-Savvy: Digital HR Professionals need not be coders, but they definitely need to know how to make new-age collaboration tools work for the inculcation of transparency in the organization.
Striving for KPIs: The most important part of a People Analytics job is that continuous improvement is achieved by keeping a stronghold over Key Performance Indicators. Some of the most important Digital HR indicators are Employee Experience, Employee Engagement, Workplace Productivity, etc.
Future-Proof: Most important of all, People Analytics & Digital HR Professionals should know how to future-proof an organization right from recruitment. The biggest pitfall that employees are facing is the incredible churn in employee retainership. Companies do not want to spend thousands of dollars on training an employee simply to have them quit in 6 months. Digital HR Specialists use People Analytics tools to sift out such bad apples and improve employee engagement.
To help HR enthusiasts and current working professionals adapt to the tectonic shifts in workplace functioning, Jigsaw Academy, in collaboration with the Indian Institute of Management, Indore (IIM Indore), has curated a future-proof course that allows individuals to experience new-age tools and techniques that ensure smarter HR decisions first-hand. The 3-month online instructor-led People Analytics & Digital HR program includes a mandatory Capstone project that features real-life problems and offers an excellent opportunity to get hands-on with the latest tech before they even roll out into the open field. If you wish to become a data-driven HR Professional, our People Analytics & Digital HR program is highly recommended!